A cancer survivor, who had her fertility restored through a pioneering procedure, has given birth to her second daughter.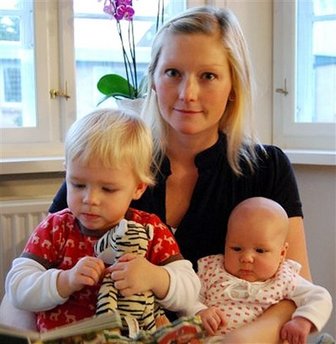 Stinne Bergholdt, a doctor from Odense, Denmark was diagnosed with Ewing's sarcoma in 2004. Treatment for this rare bone cancer was destined to leave her sterile. At only 27 years-old, Dr Bergholdt had yet to have children and was willing to take a chance on a new procedure, in the hope that she would someday have the opportunity to conceive.
One ovary had previously been removed due to a cyst. Dr. Bergholdt had tissue removed, from her remaining right ovary, and frozen.
In December 2005, it was deemed that her cancer treatment had been successful and she underwent the procedure to reattach six of the thirteen frozen strips of tissue. She then proceeded with fertility treatments, to stimulate the ovary, and had in vitro fertilization to conceive her first daughter Aviaja, who was born in February, 2007.
Dr. Bergholdt returned to the same clinic, the following year, to receive assistance in conceiving a second child only to discover that she had already become pregnant, naturally. She gave birth to her second daughter, Lucca, in September, 2008.
Professor Claus Yding Andersen, of the University Hospital of Copenhagen, pioneered the technique and treated Dr. Bergholdt. Andersen says that, "As long as the tissue remains properly stored in liquid nitrogen, it could remain functional for 40 years." He stated that, "She has seven more ovarian strips in the liquid nitrogen tank and may, if she wishes, have more tissue transplanted to maintain her ovarian function once the current strips stop working."
Andersen is amazed that the transplanted tissue has continued to function for so many years. It was not anticipated that Dr. Bergholdt would conceive naturally and she is the first to do so, following the transplant procedure. It is a testament to the power and potential of Andersen's technique.
Dr. Bergholdt co-authored the research paper on her case, which was published in the journal Human Reproduction. She said, "When I found out I was pregnant for the first time I was very happy and excited – but also very afraid and sceptical since I found it very hard to believe that my body was really working again. The second time it was quite a surprise to find out I was pregnant since we thought we needed assistance like the first time."
The procedure has resulted in the births of nine children worldwide. Three children, including Dr. Bergholdt's two miracles, have been born after treatment by Professor Andersen. – Jen R, Staff Writer.
Related Articles: