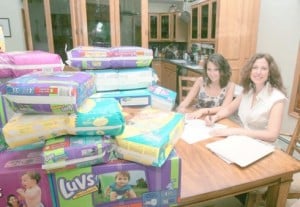 Angelic Diaper Ministries is a charity that offers free diapers to families not able to buy them on their own. For parents who are trying to afford diapers and food, this offers the help that they desperately need.
Dr. Carolann Littzi began Angelic Diaper Ministries last year after reading an article about families living in poverty. The article shared that some families were so poor, they were reusing dirty diapers to save money.
"As I am reading this article, I am just appalled," she said. "This was something that hit me very hard. I was not aware of the need for diapers in low-income families."
Now 58 babies receive diapers each month from the charity group, with a list of 60 more waiting. Though the numbers are small, for each of those families it means the world. As more donations come in, Littzi hopes to shrink the waiting list considerably.
Families of all kinds have come in to receive the free diapers. Single parents, recently unemployed, and women with reduced salaries for maternity leave have all found that diapers can be difficult to buy. Though there are programs available that provide low income families with food, none offer the household necessities such as diapers.
"They are coming in here and saying 'I can't believe I need this.'"
Currently, the Angelic Diaper Ministries provides disposable diapers to children up to age 3. Though they do not offer cloth diapers, Littzi says something could be arranged for any families that come in and want cloth.
Littzi takes donations of both diapers and money, and recently was awarded a $5,000 grant from the Luzerne Foundation's McGowan Fund. The money helps, she says, as it allows her to buy more diapers in bulk and have more to offer families.
To help or donate diapers please call the foundation directly at 1-570 – 814-2454.
Related Articles:
---
[ad]