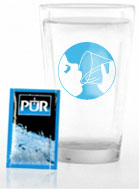 PUR water filter system is giving back to the world through the creation of their Children's Safe Drinking Water Program. This program, partnered with several other organizations, is helping to provide clean and safe drinking water to children around the world.
Around the world, millions of children face water supplies that are polluted, dirty, and unsanitary. Many become ill and die from bacteria that grow in their water sources. Every day, 4,000 children will die because of the lack of clean water. PUR, a water filtration system developed by Proctor and Gamble, has chosen to step up and work to ensure that these children have access to drinking water that is safe and clean.
PUR has created small packets that can clean water quickly and safely. The company has begun donating these packets to developing nations where water supplies are not safe to drink. Just one of these packets can clean and filter 10 liters of water within five minutes. Twenty minutes after filtering, the deadly bacteria that was growing in the water had been mostly killed, leaving the water both clean and safe to drink. To date, 2 billion liters of clean water has been distributed to these areas.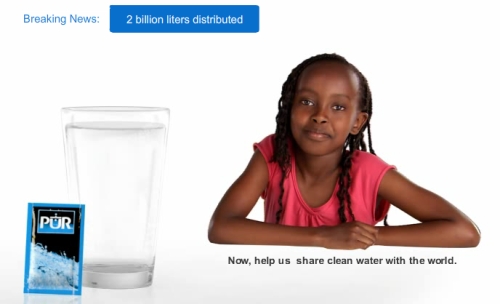 "This is a fulfillment of P&G's purpose as a company, which is to touch and improve lives for now and generations to come," said Chairman of the Board, President, and Chief Executive Officer Bob McDonald. "We are helping to save lives. The P&G Children's Safe Drinking Water Program has provided two billion liters of clean drinking water through a variety of strong partnerships and emergency relief efforts around the world. P&G is committed to work with our partners to provide billions more liters of clean drinking water and help address the crisis of children dying needlessly as we aim to touch and improve more lives, in more parts of the world."
The PUR Children's Safe Drinking Water Program is one part of Proctor & Gamble's Live, Learn and Thrive™, the company's program aimed at helping those in need. Currently, their aim is to provide help 300 million children in need from birth to age 13 by 2012. To date, they have provided care for more than 200 million children around the world with more than 100 programs taking place in over 60 countries.
You can donate to the Children's Safe Drinking Water Program to help provide these families with clean drinking water. One packet costs 0.10 and creates 10 liters of drinkable water. For $1, a child can have clean drinking water for 50 days. For $7.50 a child can have clean drinking water for one year. For $30 an entire family can have access to safe water for one year. Donations can be made through the organization's PayPal account.
People can also help just by purchasing the PUR home water filters. For each PUR system purchase, PUR will donate 10¢ to the Children's Safe Drinking Water Fund.
Related Articles: