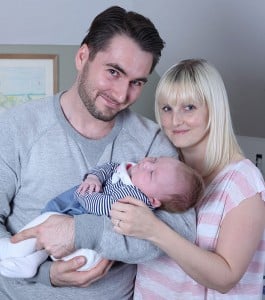 It is the love of three sisters that created baby Beatrix. When Katy Slade and husband David wanted to start a family, Katy's two sisters stepped up and made their dream come true!
Katy Slade, 31, wanted a baby with her partner David, but could not after a rare genetic condition had left Katy without any reproductive organs.
That was when Katy's sisters – Lucy and Jamie came to their rescue, each making up a piece of the puzzle.
27 year old Lucy donated her eggs to them, keeping a childhood promise made to Katy. Jamie carried and gave birth to Beatrix.
Katy says, "If it wasn't for our sisters we would still be childless. It's the best gift ever and we love them so much for it. I always knew I wanted to be a mother – it was just a question of how.

"Lucy actually lives with us and is very close to Beatrix – although she doesn't feel emotionally bonded to her like a mother would. Beatrix is very much our own – our own little miracle."
New dad David still cannot believe that he has a baby daughter.
"We still can't believe we are parents, we feel like the luckiest couple alive. Beatrix is our little angel and we'll be forever thankful to our sisters for making our dream come true. Without them things would have been so much harder."
The two met in 2003 and were together for six years before they started planning a family. But because of Katy's condition they talked about surrogacy or adoption. In 2010 they planned to have a baby through IVF.
At the time Katy asked Lucy if she was still willing to donate her egg. Lucy said yes, though she was skeptical about carrying the child.
"I cried when Lucy said she would still donate her eggs for me. It meant that genetically the baby would be linked to both me and David," recalls Katy. "But we knew she wouldn't be a surrogate too because the baby would feel too much like hers if she carried it.

"She also had a boyfriend and no children of her own and it would have been hard for her to have her first pregnancy and then hand the baby to me."
The two had trouble finding a surrogate mother though and after hearing negative stories, they became all the more concerned.
That is when Katy's elder sister Jamie, who is already mom to 3, agreed to carry the baby.
The couple was not eligible for free IVF treatment on the NHS and used money inherited from Katy's nan Eileen to fund the £8,000 private procedure.
After a series of interviews, counselling, blood test etc. David's sperm were frozen for six months for further testing. Lucy meanwhile was given drugs to boost her egg production.
In December 2011 two embryos were implanted and by Christmas eve, Jamie was expecting.
At five months Katy and David found they were expecting a girl and they decided to call her Beatrix – the middle name of the nan whose bequest financed their treatment.
The couple living in Romford, Essex took their baby home last September.
Katy said, "I held her for the first time and looked at Lucy, Jamie and David. It was incredible that every single one of us had helped bring Beatrix into the world."

"I was really glad to be able to help and when we found the treatment had worked first time I was over the moon.  I just adore Beatrix – she's absolutely wonderful," egg-donor Lucy said. "But although my eggs were used to create her, she will always be my niece."
For Jamie too it was a fulfilling experience.
"Carrying the baby was something I was happy to do for them.The pregnancy was normal just like my others and the delivery was straightforward and my mum, Katy and David were in the room."

"Obviously I knew from the start that she wasn't mine and I focussed on that and I will always see her as my niece."
---