*Updated – April 12th 2008*
After my son was born I went through the impossible task of trying to find a bottle that he liked. We purchased 6 different kinds of bottles before he decided on the one he like the best.
The big issue when choosing a bottle, besides compatibility for your newborn, is the plastic used to make them. Many bottle manufacturers use Biosphenol A in their bottles. The debate has been ongoing for years concerning the side effects of such chemicals and I have to say the findings are scary.
Bisphenol A leaches from baby bottles with regular washings, even if the bottles are not heated. And in low doses, BPA has been shown to affect the reproductive system of rodents. Other studies have linked low doses of BPA to cancers, impaired immune function, early onset of puberty, obesity, diabetes and even hyperactivity.
Here are some bottles that are manufactured without Biosphenol-A:
1. Classic Glass Bottles – Your mom probably used glass bottles when feeding you and they are still available for you to use for your newborn. While glass bottles are sturdy, the can break; sudden temperature changes can cause such breakage.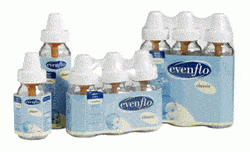 The Evenflo® Sensitive Response™ Clear Glass Bottle is designed with Micro Air Vents™ that let baby get an even flow of liquid and help keep air from entering baby's tummy.  Due to the recent articles that have been written concerning BPA's Evenflo has been sold out of this line of bottles. They have increased production by 1000% and hope to have more available in the near future.
2. Born Free – Guaranteed to be free of the hormone disrupting chemical Bisphenol-A, Born Free™ bottles are made of Polyamide PA, a form of nylon.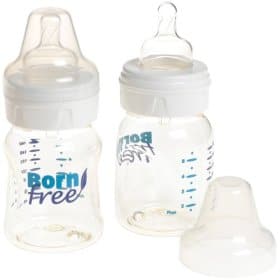 This bottle utilizes a proprietary venting system which helps reduce vacuum pressure, which helps eliminate gas and spit up. The venting systems have also been shown to assist in the reduction of risk for middle ear infections (Brown and Magnuson, 2000).These products are made from a honey-colored plastic that is dishwasher safe (top rack).  Born Free™ products are endorsed by the Children's Health Environment Coalition.
3. Medela – All Medela products that come into direct contact with breast milk, including all our breast shields and bottles, have always been made with BPA-free polypropylene plastic.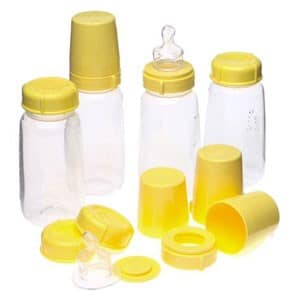 They do not have a marketing hook attached to their bottles. They are good old fashioned bottles that have a silicone nipple. This company also offers an orthodontic "slow-flow" nipple, which is recommended for breastfed infants.
Medela bottles resist scratches, cracking and splintering and are compatible with all Medela breast pumps for pumping right into the container.
4. The Adiri Natural Nurser Ultimate Bottle is 100% polycarbonate-free and bisphenol-A free.It retains the features babies and parents love in the Breastbottle® Nurser, as well as offers the latest high quality materials, a graceful design, and the new Fill, Twist and Feed™ system, engineered so that a parent or caregiver can quickly prepare a bottle, even with a hungry infant under one arm.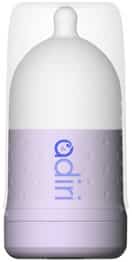 The Adiri Natural Nurser comes in three stages for three different flow rates. Each stage holds 8 oz. of fluid and is dishwasher safe! Adiri Natural Nursers can also be boiled or sterilized using a basic sterilizer.
5. Green To Grow – I love that this bottle is safe and cute all at the same time. These bottles are made from PES plastic, which gives them a natural golden color.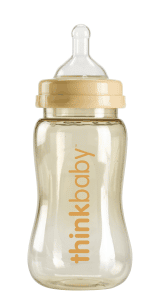 They are free of phthalates and free of bisphenol A.
Bottles are tested in the U.S. to ensure they meet the highest standards for quality and safety
Free of lead and PVC
Includes a Beginner (slow flow, 0-3 months) nitrosamine-free silicone nipple
100% recycled packaging
Dishwasher safe (top rack)
6. Thinkbaby – Like the green to grow, this bottle is also a natural golden color and free of Biosphenol-A, PVC Phthlates, Lead and Nitrosamines.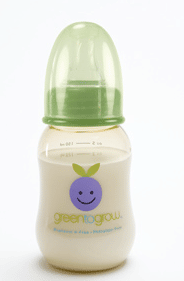 It has a patented venting system that was designed to reduce colic and comes with a travel cap to reduce spillage.
A high grade silicone nipple can provide and easier transition from breast to bottle.
Related Articles: