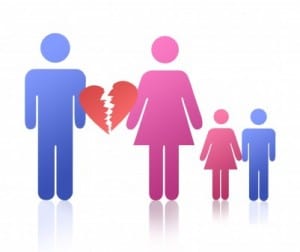 Divorce is rarely a pleasant situation for anyone, but the marital separation can be even further complicated when children are involved. Because shared physical custody is common in marriages with children, former husband and wife must continue to have contact and they must work together to parent their children. Unfortunately, co-parenting successfully is often easier said than done, and many couples struggle with making this new relationship work. However, there are some couples that find a way to make it work. What makes the difference between the two extremes?
A recent small study, conducted by Mindy Markham, assistant professor of family studies and human services on the university's Salina campus, found that certain positive and negative factors commonly found in co-parenting relationships be largely responsible for its success or failure.
A total of 20 women participated in Markham's study. These women were between the ages of 26 and 49, they were well-educated, predominately white, and had children with their ex between the ages of 21 months and 12 years. At the time of the study, the women had been divorced or separated at least six months and a maximum of 12 years.
Nine mothers were found to have a continuously difficult co-parenting relationship with their ex-partners. Negative factors that were thought to contribute to the difficult relationship included the mother's perception of her ex's parenting skills; financial concerns, such as the ex-spouse not having a job or not having to pay child support; control or abuse from the ex-partner; and the ex's inability to separate marital or personal problems from the co-parenting relationship.
"All mothers in this type of co-parenting relationship reported differences in parenting styles and were concerned with how the ex was raising the children," Markham said. "Parenting practices that concerned the mothers varied greatly and included feeling that their ex-spouse had placed the children in harmful situations, not bathing the children, not disciplining them, and having no rules or routines. It was especially difficult for these mothers to share custody with ex-partners who were uninvolved during the marriage. They didn't believe their exes were responsible parents."
Eight of the nine mothers who'd reported co-parenting difficulties had said that they hadn't wanted to share custody with their ex-partner. Most of them were told, however, that they didn't have a choice in the matter.
Markham found that the mothers in this group had difficulty communicating with their ex-partners. Most preferred to communicate through email or text messaging. Rather than meeting in person, visitation exchanges generally took place at a child care facility or at school.
In contrast, four of the women involved in the study reported having an amicable co-parenting relationship with their exes. These women were able to get along with their exes from the separation to the time of the study. In these relationships, Markham found that the women had wanted to share physical custody with their exes, financial conflict was non-existent, and these women felt their exes were responsible parents.
A third group of mothers was also found in Markham's research, a group referred to as "bad to better." In this group, the relationship started out rocky, but it eventually came to a place where both parents were able to communicate and work together for the benefit of the children.
"Although ex-partners with bad-to-better relationships originally allowed their feelings about one another to negatively affect their co-parenting, mothers were able to communicate well with ex-partners. These mothers said this made discussing differences in parenting styles easier."
Overall, Markham was surprised by the large number of women who struggled with their co-parenting relationships.
"Nearly half of the mothers in this study continue to have conflicted relationships with their ex-partners, and conversations with these women negate the notion that shared physical custody ensures cooperative, less conflicted relationships," she said. "This study can be important for helping professionals recognize that shared physical custody is not a panacea for post divorce problems – and that in some cases, it exacerbates them."
Related Articles:
---