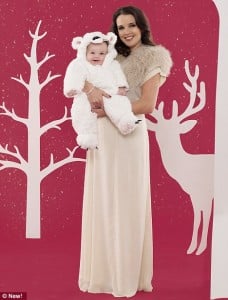 Reality star and model Danielle Lloyd has opened up about the postpartum depression she faced after the birth of her son Archie. After calling off her wedding and not feeling bonded with her son, Lloyd is finally putting her life back on track.
In an interview with New! magazine the new mom admits that after giving birth back in July, she fell into an episode of postpartum depression. The condition affects millions of women after giving birth, often to varying degrees. While some can cope well within weeks, others find themselves in need of counseling and help to get better. For Lloyd, her depression was severe enough to cause her to call off her wedding to soccer player Jamie O'Hara and make bonding with her son difficult to do.
'Having a newborn baby was hard, with the lack of sleep and everything else. I was stuck in my own little world and I didn't want to get up.'
Lloyd attended counseling sessions with her fiance, O'Hara, to help her get out of the depression from the birth. Despite the setback, Lloyd says she feels stronger and is getting her life back on track. With the help of family, the couple has made time to go out and enjoy themselves with the new baby. Being able to get out and still have fun has been beneficial to Lloyd feeling better.
'We almost thought that we had to act older because we are parents, but we're young and we're allowed to enjoy ourselves.'
Lloyd is one of millions of women that face postpartum depression every year. – Summer, staff writer
Related Articles:
---