Mom-to-be Drew Barrymore was photographed at Bristol Farms grocery store getting ready for Thanksgiving on Wednesday.  The actress likely had to brave the crowds as she gathered up everything she needed for the following day's meal but appeared to be in good spirits as she loaded her bags into the car.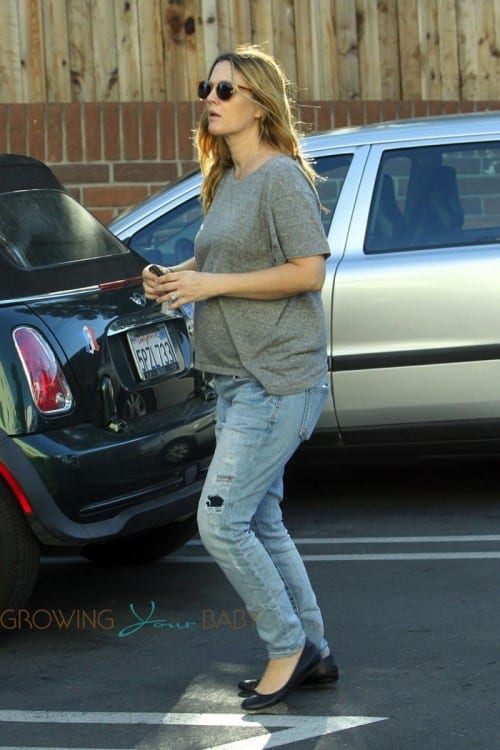 Her growing belly was definitely evident as she pushed her cart through the parking lot.  About 5 months along Drew dressed down in a casual gray T-shirt, ripped jeans and ballet flats.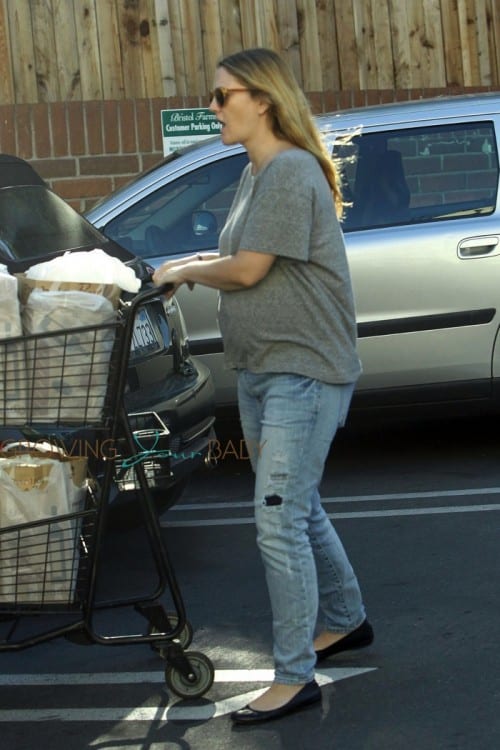 During an interview with US Magazine a couple weeks ago Drew dished about her current cravings telling them,
"I eat a lot of Chinese food .  I like specifically pan fried noodles. I'm going to make a list of the best pan friend noodles in Los Angeles."
This time around, she says, she is more relaxed about the pregnancy, but balancing work and motherhood is tricky.
"You just always feel torn," she said. "It's always a juggling act and a balancing act, but I think life is always there to teach you how to try to be as graceful as you can."
As side from just wrapping production on her new movie Blended with Adam Sandler, Drew voices the character Jillian Russell on Family Guy and also runs both her businesses Barrymore Wines and Flower Beauty. She is definitely a busy girl..
But little does she know the juggling act is about to be upgraded to a full on circus show in the new year!
{PACIFIC COAST NEWS}
---