Every special occasion comes with new safety risks for little ones. At our house decorating for Christmas has gotten easier, but in the process we have learned a lot about keeping our kids safe during the holiday.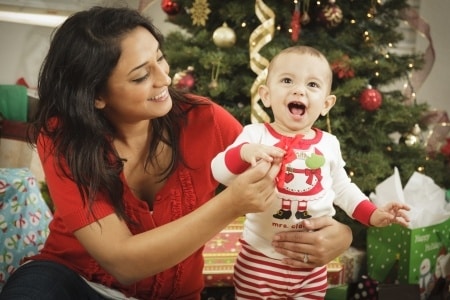 Over the years we have replaced our glass ornaments with plastic ones so that they will only bounce instead of shatter if the kids drop one by mistake. My boys were pullers and grabbers so I would put my favorite(and most precious) ornaments on the top of the tree and just do bows and non breakable items closer to the bottom.
We also don't light candles and makes sure all of the holiday lights are turned off is we are going out or to bed.
Safety 1st Consumer Safety Expert Julie Vallese has some great tips to keep little ones safe over the holidays.
The holidays are a time for food, family, gifts and decorations! For many families, decorations are the highlight of the holiday season, but there are some important things to consider to keep your children safe when decorating.
Once all of your decorations are up, keep a close eye on children and the decorations themselves. Your child will naturally be fascinated by lights. Before you put the lights up check each set, new or old, for broken sockets, and loose connections. Throw out damaged sets, and always replace burned-out bulbs with the same wattage bulbs.
Sometimes curiosity just gets the best of our little ones. Make sure to keep decorations high and out of reach of small children. I am always surprised how high children can reach when they really want something!
For a long time we had all been told that poinsettias are poisonous. We now know that is not true, but mistletoe berries are. It is best to avoid mistletoe completely with young children around.
Here is a video to learn more:
---
[ad]