After a rain-filled Spring, Summer and the heat hit hard at the end of June.  With it came some sticky, uncomfortable nights and a huge allergy rush for my family.
Because my husband's allergies worse at night, Dyson's Pure Hot+Cool Link purifier was god send in getting us through.
Located in the base of the unit, Dyson's 360° Glass HEPA filters removes 99.97% of allergens and pollutants as small as 0.3 microns.
Each day we take 20,000 breaths and consumers often believe that indoor air is better than outside air but in actuality, inside air pollution can be up to five times worse.
This machine filters pollen and allergens, bacteria, dust and mould spores, household odours, pet dander and potentially harmful ultra fine particles while circulating the fresh air around the room.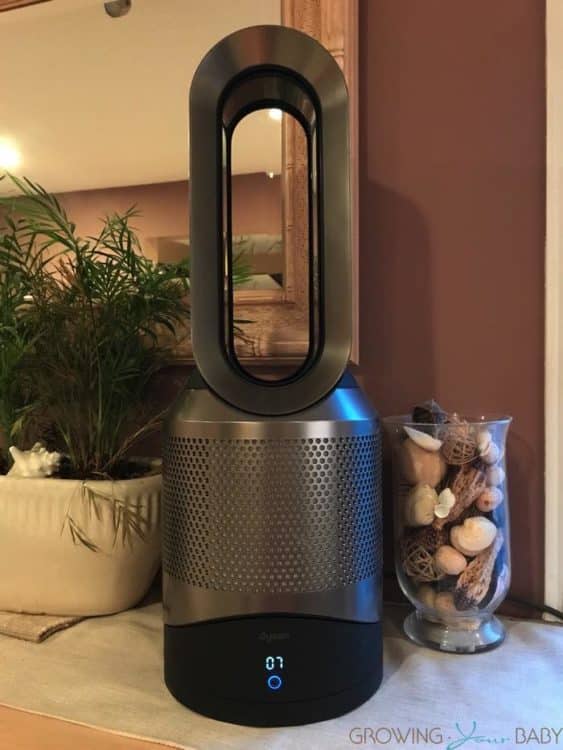 The Dyson fan concept has been one I have loved for many years.  Eliminating the blade to create a product that could sit anywhere in any room and not create a safety hazard for little fingers was a game changer.  In true Dyson style, the Pure Hot+Cool Link purifier is the next level – offering heating and cooling capabilities – while removing airborne allergens and substances that may contaminate our air.  It even captures smell through the activated carbon layer in the filter and removes potentially harmful volatile organic compounds (VOCs), like paint fumes!
To use the unit all you have to do it turn it on.  Included in the box is a remote control that allows you to manage the speed, airflow, projection and amount of time the unit runs for.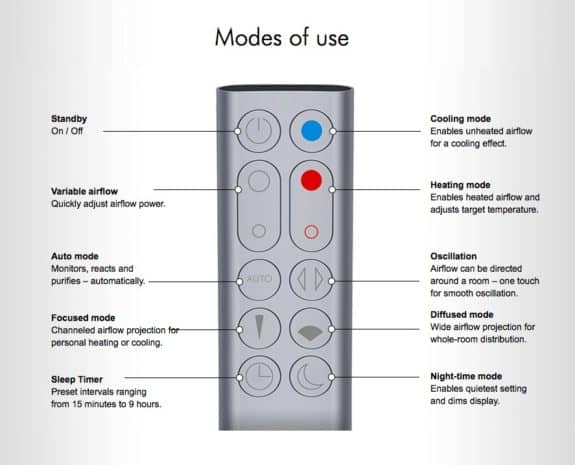 To further improve the functionality of the purifier and the information you are able to collect – downloading the app is a must.
The APP
The unit's app is pretty impressive. At first I thought it was just a secondary way to control the unit, but Dyson has packed some incredible features into the app to give users more information about their home and the air quality through out(and around) it.
There is a bit of set-up to get the app going, but once you do it will track the air quality, humidity and temperature inside your home.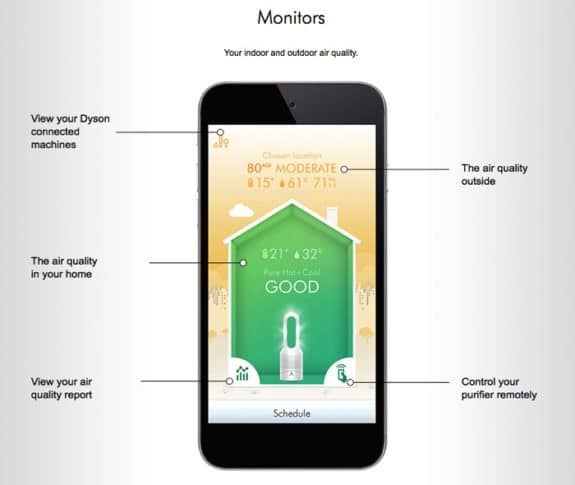 Add your location and it will cross reference the temperature, air quality and humidity in your city. This allows the unit to intelligently and automatically monitor, react and purify the air in your environment.
Users can schedule when they would like to their purifier to come on and control some of the finer settings of the machine through the 'settings' tab.
Add your air quality target while monitoring your filter's life.  There is so much information at your finger tips. Keeping your family healthy has never been easier!
Dyson has long been a respected brand in our house.  Our DC37 vacuum has been a beast so I was excited to try the purifier. We don't have a traditional fan so it was a huge bonus that the unit can heat and cool the house as well.
Plus, nothing looks sleeker than the Pure Hot+Cool Link purifier.  It's patented design ensures it fits in to all interior styles and it is one of the quietest units I've come across.
We've been using this HEPA air purifier for a couple months now and I can't recommend it enough.  If you are looking to improve the air quality for your family or want a multifunctional unit to keep them comfortable and healthy year round the Dyson Pure Hot+Cool Link purifier is your guy.
Dyson is challenging Canadians to take the #PurifierChallenge and for each Purifier purchased from June 30 – July 28, they will receive one filter replacement (valued at $99.99) before six months of usage.
*Thank you to Dyson for sending us the unit for review.*
---
[ad]