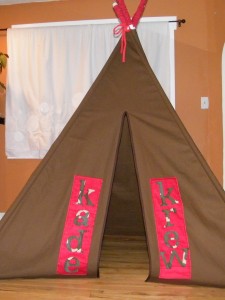 When I was a child I had a very active imagination, so when I came across nickmaxmama's retail shop on Etsy I was taken back in time with their fantastic collection!  nickmaxmama is a wonderful little shop that specializes in super cute and fun play items for children! 
I remember taking blankets and draping them over furniture to create play huts and I'm sure my mother would have appreciated having the opportunity to give me one of these personalized tents in order to regain her living space back.  The tents in the nickmaxmama's collection are wonderful!  From teepees to Aladdin style tents you're sure to find that perfect adventure hut. 
One of the best things about these teepees is that they offer the 'fort' experience anywhere you want to play. Outside in good weather, inside on rainy days, even at the park or beach!   They are easy to store, just pull the poles in together when you're finished playing and it fits easily under the bed, in a closet, in the play room corner, anywhere you want to put it.  What parent wouldn't love that??
By far my favorite items in the nickmaxmama collection are the hobby horses!  An old-fashioned stick pony is sure to bring hours of fun and imaginary play to the lucky little girl or boy who becomes its proud owner.  Looking for a unique party favor for your child's birthday party?  Why not consider a collection of party ponies?  There are so many different ponies in the collection from Arabian and Palomino to my favorite "Just Darn Cute!"
All items are formed from top quality materials and made with extra care for durability making any item from the collection an amazing addition to your child(s) toy collection.