Parents check your gear!  Six months after announced the recall of 1.37 million convertible car seats Evenflo has announced the recall of more than 202,000 rear-facing infant seats because the buckles can become difficult to unlatch.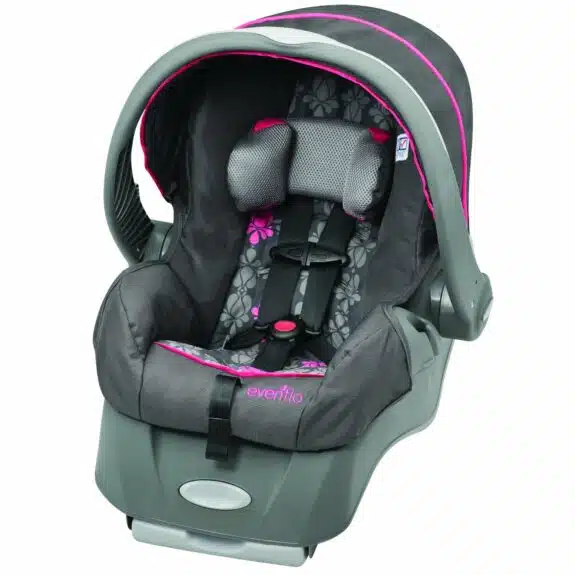 The recall affects Embrace 35/9999 models with an AmSafe QT1 buckle. Documents posted by U.S. safety regulators say that if the buckles don't release easily, it may be difficult to get a child out of the seat in an emergency.
The recall comes after an investigation by the National Highway Traffic Safety Administration.
Select Embrace 35 models manufactured in the December 1, 2011-May 31, 2013 date range used a harness crotch buckle which may become difficult to unlatch over time, due to exposure to various contaminants (like food and drinks). This condition may make it challenging to remove a child from car seat. There is no such risk if the buckle is functioning normally. Moreover, most consumers tend to remove their children from the vehicle while still restrained in the carrier portion of the Embrace 35 and to unbuckle the harness crotch buckle after going inside the home or other location. This typical usage mode of the Embrace 35 virtually eliminates the need to unbuckle the harness in a potential emergency exit from the vehicle. Because these car seats continue to meet or exceed all requirements for crashworthiness under the federal FMVSS 213 safety standard, they can still be used to transport your child safely if you are not experiencing difficulty unlatching the buckle.
Affected model numbers include 30711365, 31511040, 31511323, 31511400, 3151198, 3151953, 31521138, 46811205, 46811237, 48111200, 48111215, 48111215A, 48111218, 48111234, 48111235, 48111235A, 48111462, 48411391, 48411391D, 48411392, 48411504, 48411504D, 52911307A, 52921040, 55311138, 55311238, and 55311292. The seats were made at various times from December 2011 through May of 2013.
Evenflo is providing to consumers who own affected seats a remedy kit, free of charge, that includes a replacement buckle and instructions for the installing the new buckle. Please do not return your child's Embrace 35 to retailers.
---