On Friday afternoon, when 911 calls came in reporting a mother and a baby floating in the Puntledge River in downtown Courtney, emergency responders and volunteer search and rescue technicians ran from their work and classes. After they changed into their gear, they all raced to the river bank, hoping they could just get there in time to save the mother and child.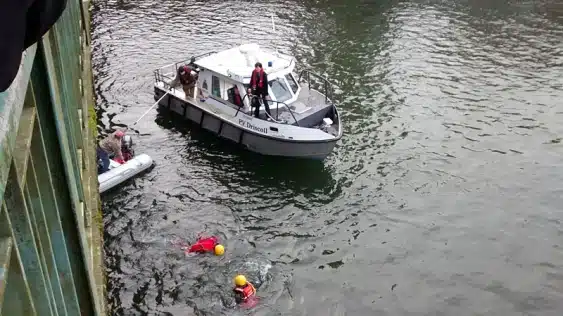 "When you hear a mother and child in the river, your adrenalin starts pumping," Paul Berry, search manager for the Comox Valley Search and Rescue Team, told The Province. "Every police officer I've ever known was in attendance. Firemen were lining the banks of the shore in a huge, rapid response."
Upon arrival, responders learned that at least two civilians had already failed at their attempts to grab and pull the mother and baby from the water. Witnesses were saying that they'd seen the infant floating face down and the mother bobbing in and out of sight in the rushing water . . . waters that were cold, murky, and around 6 degrees.
Things didn't look good.
Still, responders remained hopeful. They found the baby, aged seven months, within about 25 minutes. After pulling him from the water, firefighters and paramedics started performing CPR.
But the mother still hadn't been found.
Helicopters began to fly overhead and boats began to search further out in search of the mother. Between all of that, and the shouts from bystanders on the shore, emergency responders had to work hard to fight against the distractions and stay focused on their training.
Finally, after an hour and 45 minutes, after she was first reported in the water, rescuers found the mother. She'd been found submerged in a slow-moving and wide part of the river and was pulled into a police boat where she started receiving CPR.
"She was quite deep and only from the helicopter with an overhead vantage point would you be able to spot her against the bottom of the river," Berry said. "Only when I was right over the top of her was I able to view her."
Despite her critical condition, and how long she'd been in the water, responders were hopeful that they would be able to resuscitate her as they rushed her to the emergency ward of St. Joseph's Hospital.
"We like to think there's always a chance, but she was in the water close to an hour and 45 minutes, so the chances are remote, but you do everything you can do," Berry said.
In the end, they weren't able to revive the mother. She was pronounced dead at the hospital at 6:55 p.m.
Meanwhile, the baby had started receiving what everyone hoped is life-saving care. With his father, who is only being identified as "Doug," an employee for the Comox Valley School District, the little boy remains in critical condition.
He has chosen not to speak about his current circumstances, and his colleagues, as well as the media have expressed their sympathies, and their understanding.
"Our hearts go out to him, his son, and his family. We will support Doug in any way that we can," Comcox Valley School District Superintendent, Sherry Elwood, told The Province. "We recognize that their right to grieve, to hope, and to manage this terrible tragedy is paramount and far outweighs anyone's need to know anything other than the difficulties they are experiencing. We would ask that everyone to protect the family in this way."
Meanwhile, everyone is praying for a miracle for the couple's first and only child.
"One thing I've learned from this team is we always maintain a positive outlook . . . that's what sustains this group," Berry said. "It's been a really emotional weekend for the whole team."
It is unknown as to why the mother and baby ended up in the river in the first place, but it has been concluded that they were not pushed. B.C. Coroners Service is conducting an investigation and have promised to examine all possibilities "which could include anything from tragic fall to post-partum depression [and] psychosis."
Related Articles: