An amazing video, released this week, showed an Australian father making the ultimate sacrifice to save his son from a runaway vehicle.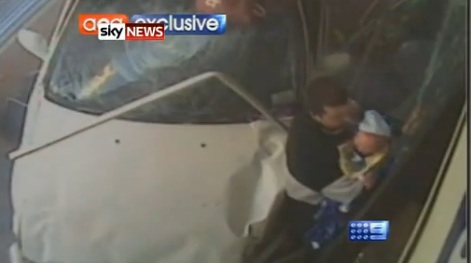 Andrew Leach was carrying his son while out for a walk when a car that was being driven by an 82-year-old woman suddenly lost control. Officials believe that the lady suffered a heart attack which led to the mishap.
Just seconds before the car came veering down in his direction, Andrew stood like a protective shield between his son and the car, himself getting hit by it.
The dramatic incident was captured in a video that shows the impact of the hit and Andrew sandwiched between the car and a cracked glass window of a store in front. The baby is also seen, crying due to the shock, but otherwise absolutely safe in his brave father's arms.
Andrew survived the incident with a broken leg. Here is what went through his mind in that fraction of a second,
"I thought if they hit the back of me… [I] might break a leg or whatever, that's fixable. But if they hit my son, he's not fixable."
Andrew's parents were also struck by the car and injured but have now recovered from the accident.
– Atula, Staff Writer
Related Articles: