While we continue to use plastic baby bottles, containers, and other products, ignorant of the health hazards the chemical in them may cause, the Food and Drug Administration, has changed its stance recently and stated that Bisphenol A (BPA) is, indeed, a chemical we should be worried about. The FDA had deemed the chemical to be 'safe' two years ago.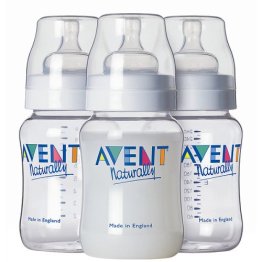 BPA is used by manufacturers to harden plastics and according to a recent statement by the FDA there are "some concerns about the potential effects of BPA on the brain, behavior, and prostate glands of fetuses, infants, and children." The organization is now preparing itself to research more in this area with other government agencies too willing to test the effect of BPA on humans and animals.
Previously, while the FDA maintained its silence on the issue, many other health committees, independent researchers and epidemiologists found that BPA is present in almost everyone's blood sample, including fetuses. It can lead to diseases like cancer or sexual dysfunction and most alarming is the way it may affect the development of a fetus or a growing baby.
The chemical usually leaches out of the plastic bottles or containers with each use, especially after heating. Leaching may also increase if the bottle is scratched. A safety measure that can be taken is to not heat formula or other food in plastic containers.
Worldwide many countries have taken strict measures against the use of BPA or products having BPA. Although in the US it seems it will be a few years before BPA use is strictly prohibited or a printed warning label is present on the products, users especially mothers, can carry their own preventive measures, by using fewer plastic products and opting for baby equipment free of BPA. – Atula, Staff Writer
Related Articles: