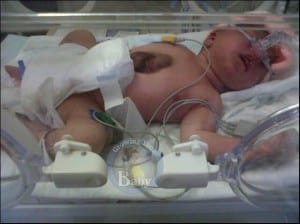 Last week we introduced you to an amazing baby named Ashleigh Louw. Just 9 days ago she was born with a rare heart condition known as pentalogy of Fallot ectopia cordis and omphalocele, meaning her grew heart outside of her body while she was developing in-utero. Normally this can be fixed, but in Ashleigh's case her heart has holes and is protruding from her chest because half of her rib cage did not develop.
Doctors have said that Ashleigh's medical treatment 'would be carried out in many stages and be multi-disciplinary in nature, requiring the work of various specialists and super-specialists'.
"The baby has a number of defects… it's going to be in different phases."acting CEO of Chris Hani-Baragwanath Hospital Dr Sanjee Lingham said.
After her first surgery yesterday, the little fighter was in stable condition.
Surgeons managed to close the abdominal wall and put the heart back in her chest, Dr Jerome Loveland, head of paediatric surgery at Chris Hani-Baragwanath Hospital in Johannesburg told journalists.

They could however not put the heart back in its normal position as this could trigger cardiac arrest, he said.

"The next 24 hours will be critical, but she remains stable. Time will tell. It can be a rocky boat. If all goes well she could be up and about in a week's time.

"The defect is closed. To the naked eye it [the chest and abdominal wall] looks normal."
There is no word when the next surgery will take place. Ashleigh's length of recovery will likely dictate that schedule.
Ashleigh's rare condition only affects one in a million babies and it consists of five associated defects, including structural abnormalities of the heart, a defect of the covering of the heart, a diaphragmatic defect, a sternal defect and a defect of the anterior abdominal wall.
According to academic literature, she has a 50 percent chance of survival.
This family is definitely in our prayers.
Related Articles:
---
[ad]