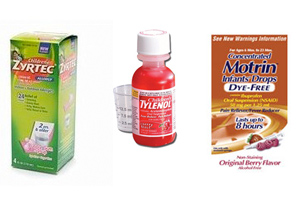 Just days after Johnson & Johnson initiated a voluntary recall of 40 varieties of children's medicines manufactured at the McNeil Consumer Healthcare plant in Fort Washington, FDA says that the ingredients used to make the medicines were contaminated with bacteria.
However the officials said that none of the finished products were contaminated although the tests could not be taken as definitive and precautions were necessary. They also added that at this point the risk to consumers were remote though parents were advised to take generic alternatives.
In their online report, FDA has listed 20 manufacturing problems at the unit. Some of the concerns were that many pieces of equipment were either held together by duct tape or covered in layers of dust, the company did not have laboratory facilities to test the ingredients of the drugs and 46 customer complaints of Tylenol having 'black or dark specks' went unanswered.
At its end, Johnson $ Johnson officials said that "The problems cited by the FDA is unacceptable to us, and not indicative of how McNeil Consumer Healthcare intends to operate." The company now plans to stop production at the plant until all problems are sorted out.
FDA had stepped up its investigation of J & J plants since February when they discussed manufacturing problems with the company about another plant after they received a warning letter. "That warning letter brought us to the point where we thought it was necessary to sit down with management and discuss our concerns," says Deborah Autor director of FDA's drug compliance. They are now planning to issue other warning letters and also take criminal action against J& J.
The medicines concerned are mostly over-the-counter and for children. It is thus indicative of how J & J has been neglecting quality issues even after the company recalled the adult Tylenol from market in January due to moldy smell issues.
If you have some of the recalled medicine please visit to the McNeil Website to apply for a for a Refund / Product Coupon.
– Atula, Staff Writer
Related Articles:
---
[ad]