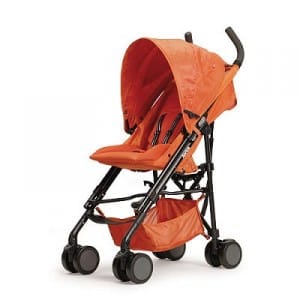 The reintroduction of Japan's Aprica to the US market has brought us the innovative lightweight Aprica Presto. At 13.7 pounds, this stroller will go anywhere you want to take it. Not only is it lightweight, but it offers features that will make any baby happy. The Presto offers 4 wheel suspension and a comfy padded seat that is higher than average, so the baby is closer to you and has a very nice ride for such a compact stroller.
Assembly
Out of the box all that is need is to just pop on the wheels & canopy and you're ready to go. It's really just a few-minute process.
Features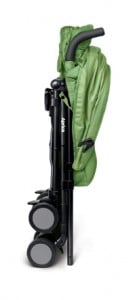 This may be a small stroller, but it's big on features. The 2 most impressive are the high seat and the fold. The higher seat gets your baby up closer to the action, especially nice if you're stopping to eat. This also reduces bending when fastening the harness or lifting your child in and out. The fold is really different. Not your typical hinged umbrella fold, the frame slides up, which gives you 2 great benefits. The first is that all 4 wheels stay together, easier to store the stroller without the dirty wheels ending up on something. The second is that the stroller stands securely when folded. Other features include a nice, washable padded seat, a secure, height-adjustable 5-point padded harness, a full, vented sun cover with mesh peek-a-boo insert and pop-out sun visor, easy one-hand recline, good sized basket and an included rain cover. A really great touch that I love is the side reflectors. Such a great addition.The rear brakes are not locked, so you do have to lock each wheel, but not really a big deal.
In Use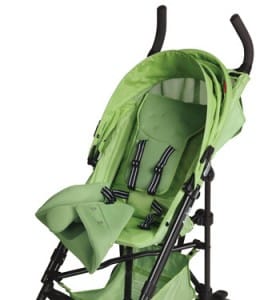 The Presto is very easy to operate and it is great to have so many features on such a lightweight stroller. It is very lightweight, with a convenient carry strap, so easily portable, perfect for quick trips, lots of in & out of the car trunk, travel and public transportation. Many lightweight strollers are rather bare on features, but not the Presto. It also offers quite a bit for the price of $199. From the fold and design, I would expect a much higher price tag. It's a very stylish stroller that you will be please to be seen with. We tested the 'Tea Leaf Green' which is gorgeous with the black frame. The high seat is nice especially if you need to take your child out often and it offers more legroom especially for bigger children. It is rated for ages 3 months and up, but has a huge 70-pound weight capacity, so you will be able to use it for as long as you need a stroller. I had my tall, 45 pounds 5 ½ year old take a ride and not only did he say that the stroller is very comfortable, but he still had plenty of headroom, yet my 1-year-old daughter also could sit comfortably in the same seat.
It's very sturdy and solid and the suspension really does well on sidewalks. It's also very agile and compact, so is great for tight or crowded spaces. This would be a great city stroller or perfect to travel with. It's also nice that Aprica has really thought through the comfort of the rider and made it a priority with the comfy seat pad, padded harness and vented seat and canopy. And I always love it when the rain cover is included. The fold is easy, just flip the rear fold lock and slide the handle up to collapse the stroller then click on the manual lock and you're all set. It will then stand when folded, but you need to be sure the wheels are in the correct position. If it rolls, just flip them around and you're all set.
The Aprica Presto is a fabulous lightweight stroller for a great price. It looks like it should carry a much higher price tag and the features will please both you can your child. It's perfect at home and on the road, has great longevity, and innovative features, and looks great too. The Presto really is super cool. The Presto is also available in 3 more gorgeous colors, 'Loft Brown', 'Highrise Grey' and 'Metro Orange'. This gorgeous, modern-looking stroller will anywhere you need to be.
Specifications
Stroller Weight: 13.7 lbs.
Folded Dimensions: 13.31"W x 9.53"D x 40.87"H
Unfolded Dimensions: 19.21"W x 21.10"D x 43.31"H
Length (wheels front to back): 21.10" Length (wheels left to right): 19.21" Wheel Size Front: 5.5" Wheel Size Rear: 5.5"
Seat Back Length: 18.0" Seat Length: 11"
---
---