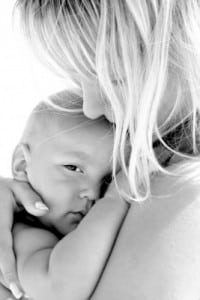 If you are looking to give a gift that stands apart from all the others at a baby shower beginning… by Maclaren line of mom and baby care products is the one to give. I had the pleasure of testing out this wonderful line, simple words can not explain the beauty of these products it really is one you need to go out and simply try yourself.
When it comes to body products I am extremely picky. Each product in Maclaren's Beginning's line smells wonderful and feels lovely on the skin! The aromatherapy expert they collaborated with really worked their magic on this quality line! Additionally, they stepped up their product with superior packaging. Most of their line is packaged in glass containers which have a "special-coating" covering to help minimize the risk of breakage. I find this feature particularly comforting when I was massage my curious and squirmy 11 month old who repeatedly attempts to (sometimes successfully) grab the bottle.
All of Maclaren's Beginning's line have been tested on sensitive skin and they do not use: synthetic perfumes, artificial colours, Petroleum derivatives, Sodium Lauryl Sulphate, Parabens, TEA, DEA, or animal ingredients (they are against animal testing too).
Maclaren has packaged their Beginning's line into 6 gift sets: 3 for mom, 3 for baby. Additionally, they sell their candles separately.
beginning… by Maclaren for baby:
The Calming Bath Milk, made from 70% certified organic ingredients, has a lovely aroma of Lavender, Geranium and Mandarin. I found the aroma to be relaxing and left a wonderful softness to both mine and my daughter's skin.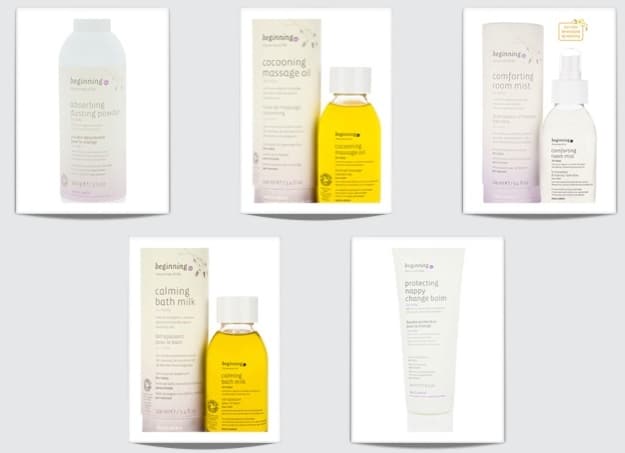 I love the Cocooning Massage Oil! I have tried on numerous occasions to give my baby a full body massage but she really doesn't like to sit still, usually I am only able to massage her arms or her legs. However, I am now able to give my daughter a full body massage by using the Cocooning Massage Oil! Additionally, I use it in my daughter's hair to keep it soft (she has thick curly hair).
The Soothing Delicate Soap is the perfect name for this soap, it is both soothing (smells lovely) and delicate on the skin. I wash my hands many, many times a day and find this soap to be gentle on my skin. I also use it to wash my daughter's skin and hair; it does not dry her out. The soap is made from 100% pure essential oils (using proportions that are safe for pregnancy), as well as natural and organic ingredients.
I find the Comforting Room Mist a lovely way to quickly bring freshness and calm into the space where my daughter and I are.
The Protecting Nappy Change Balm smells fantastic. This product comes in a squeeze tube with a flip top lid that is easy to open and use with one hand, an essential with a squirmy bare bottomed babe.
I particularly liked the Absorbing Dusting Powder. Not only does it smell heavenly, I also find it easy to open, apply and close with one hand. Additionally, once the lid is closed my daughter can not open it; consequently it doubles as a distracting toy while I finish changing her.
beginning… by Maclaren for mom: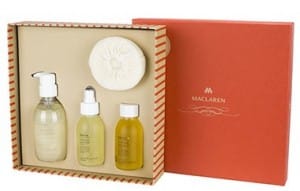 The Connecting Massage Oil was created for the purpose of daily self massage. I wish I had this product during my pregnancy, for it would have been a lovely way of connecting with the little being growing inside. However, as a new mom I have enjoyed creating the ritual of using this oil to help unwind the end of an exhausting day. I particularly love how light this oil is and how easily it absorbs into my skin.
The Nurturing Bath Milk is as lovely as Maclaren's Calming Bath Milk. The main difference between these two being, the Nurturing Bath Milk has more of a citrus aroma, where as the Calming Bath Milk has a stronger lavender aroma.
The Purifying Bath and Shower Elixir has a wonderful lather and a fresh sent; I use it daily.
Maclaren has a super line of pure essential oils. I tested out their lavender oil. Lavender oil contains compounds that are antiseptic, antibacterial and anti-fungal. I added a couple drops of the oil to a spray bottle with water and sprayed down areas of potential contamination like phones, doorknobs, counters and especially my daughter's toys.
Last but not least Maclaren's aromatherapy candles are divine. I received both the Celebration (Natural Wax Candle) and Tranquility (Patchouli and Rose) candles and have used them both on numerous occasions. Whichever candle is lit, the aroma of it fills the room with a lovely sent helping to create a peaceful and relaxing atmosphere. All of their candles are made from high quality natural soy and palm wax (lead free) that are infused with 100% pure organic essential oils and have an approximate burn time of 30 hrs. I highly recommend this as a gift to a new mama or yourself!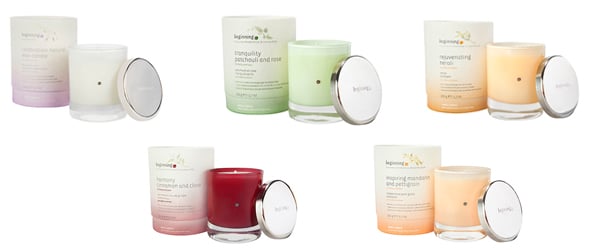 Overall I can not say enough about beginning… by Maclaren, it is superb! My only regret is that I did not know about this excellent line of products sooner! Both my daughter and I have benefited greatly from using this quality product line. – Kirti, Staff Writer
---