As my kids get older there are 2 issues we face; the harness strap on the seat isn't long enough for them to be bucked in comfortably, and their seats are expiring…
I'm not ready to take them out of 5-point yet because they are still hovering around the 50-55lb mark and the harness system is the safest method for young kids. Sooo, while looking for a new car seat to replace one they had just outgrown, I chose the Britax Frontier ClickTight Harness To Booster. We have been long fans of Britax. In fact we own various versions of the Frontier so I can appreciate some of the upgrades the company has made to the line.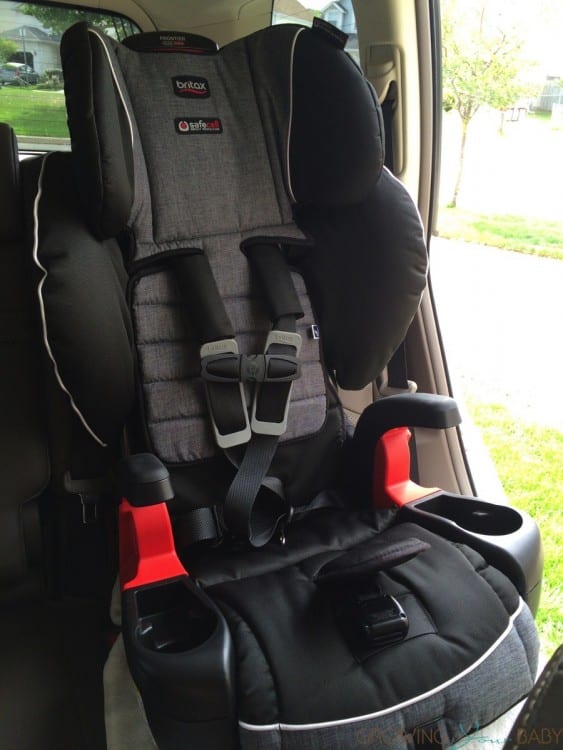 I am fond of this seat because it does what it says. It keeps them comfortable, safe and there is lots of room for them to grow, which will allow them to stay in 5-point for a little while longer.
Britax has also added loads of safety features that will keep your child safe in the event of a crash.
Installation
Installing Britax's seats has never been easier. It is estimated that more than 70% of car seats are installed improperly. To help with this Britax created their ClickTight installation system. The center of the Frontier ClickTight opens to allow the parents to pass the seat belt through.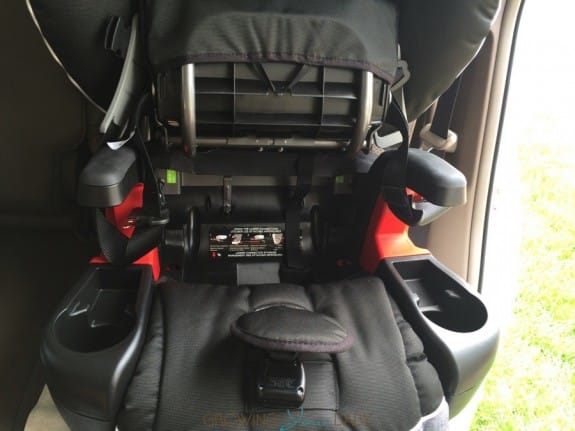 This is awesome because you don't have to struggle with tightening belts or worrying if the seat is in properly. Connect the Tether Strap at the back of the seat and you are off in minutes!
Easily Adjustable
Nothing is worse than having to pull your seat out of your vehicle as your child gets bigger. All you have to do with the Frontier ClickTight is loosen the straps and pull up on the handle at the back of the seat to lift the straps and headrest up to fit your child.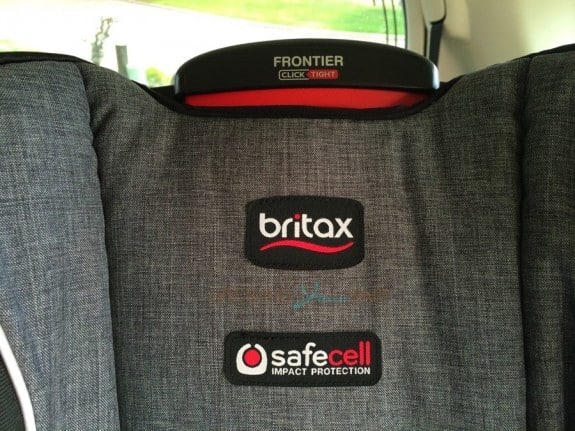 In addition, the buckle can be repositioned out as your child grows.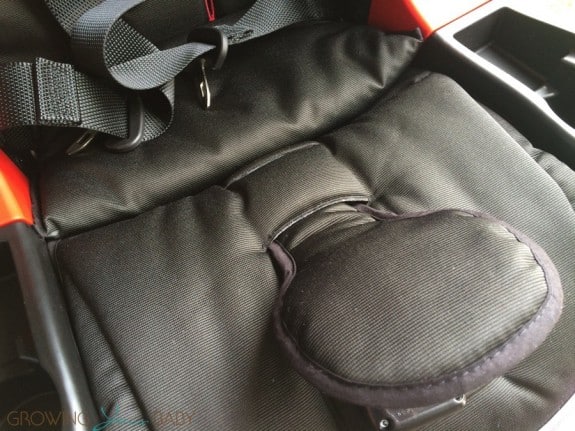 Comfort
This seat is one of our favorites because it's super comfortable for both of my kids. Unlike a convertible car seat, the Frontier ClickTight is more upright so it's much like sitting in a regular seat. There is also plush memory foam padding on the seat to give your child a luxe ride!
Britax has also added little things like a cupholder and shoulder pads that help keep my guys happy and comfy during trips to the mall or long road trips.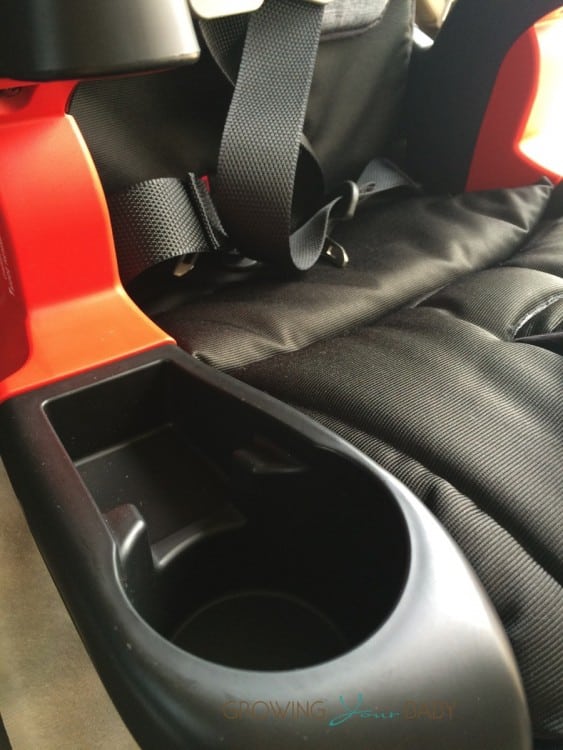 Safety
We love Britax because they have a strong track record, they make a great product and they include a lot of features that will keep your child safe and secure if an accident were to occur.
The Frontier ClickTight was designed with 4 key safety features that protect and absorb crash forces away from your child.
Impact-absorbing base compresses to absorb crash energy and counteract forward movement, keeping your child clear from the seat in front of them.
The impact-stabilizing steel frame gives you peace of mind knowing there is strength where you want it most, through the spine of the car seat reducing forward flex and at the connection points to the vehicle.
Impact-absorbing tether minimizes seat rotation with a unique two-strap design and slows forward movement with our patented rows of stitching that "give way" one at a time in the event of a crash.
Side impact protection surrounds your child in safety. We offer varying levels of side impact protection in our different Harness-2-Booster models.

2 layers of side impact protection provide an advanced level of protection: a deep protective shell absorbs crash forces and shields your child from debris, and an energy-absorbing headrest keeps your child's head and neck secure.
Full Specifications:
| | |
| --- | --- |
| Child Weight – Forward Facing Harness | 2 years and 25, up to 90 lbs |
| Child Weight – Booster | 40 – 120 lbs |
| Child Standing Height – Forward Facing Harness | 30 – 58″ |
| Child Standing Height – Booster | 45 – 62″ |
| Child Seated Shoulder Height – Forward Facing Harness | 12.5 – 20.5″ |
| Child Seated Shoulder Height – Booster | 15 – 23″ |
| Product Weight | 25 lbs |
| Product Dimensions – Harness Minimum | 19″ W x 28″ H x 21″ D |
| Product Dimensions – Harness Maximum | 19″ W x 36″ H x 21″ D |
| Product Dimensions – Booster Minimum | 19″ W x 28″ H x 21″ D |
| Product Dimensions – Booster Maximum | 19″ W x 36″ H x 21″ D |
| Seating Compartment Height | 23.5″ |
| Seat Area Depth / Width | 13.5″ / 12″ |
| Shoulder Width | 15.5″ |
| Harness Slot Heights | 12.5″ / 13.5″ / 14.5″ / 15.5″ / 16.5″ / 17.5″ / 18.5″ / 19.5″ / 20.5″ |
| Buckle Strap Depths | 7.0″ / 9.0″ |