Now that my son is almost 5 it is time to move him into a bigger car seat and give his smaller one(Britax Boulevard CS) to my youngest. After doing some research we decided that the Britax Frontier XT was the perfect seat for us because it will hold him in 5-point until he is 65lbs (85lbs in the U.S) and then be able to be used as a booster seat to 100lbs (120lbs in the U.S).
Out of the box, this seat would have probably been ready to go if my oldest was 2, the starting age for the Frontier, but we had to make a few adjustments to make it work for him.
Because the straps are located behind and underneath the car seat, both the height and middle positioning(tongue) belts need to be adjusted before installing the Frontier into your vehicle.
At first glance, I was convinced this was going to be a challenge because the tether strap crosses over the height adjustment panel leading you to believe that more needs to be done than what is. But after consulting with my manual, I realized that I just need to pull up on the panel lever and move it up as needed – easy. REALLY easy.
The next adjustment, the tongue, was just as easy. Just like on any stroller, you just need to unclip, feed through the desired position and you're done.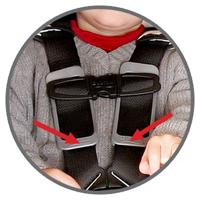 Once in my truck, I was impressed with the size of this seat. Measuring only about an inch wider than our Boulevard CS, the Frontier is more spacious and comfortable for my little guy. Gone is the body pillow in the middle of the seat to make room for a growing child, but still included in the design in Energy-Absorbing Foam Liner (EPS) to absorb and distribute crash forces. For your child's safety, the Frontier also uses the HUGS™ (Harness Ultra Guard System) to reduce forward head movement and cushion their chest in the event of impact.

My son was super excited about his new seat. It is more like a regular chair that sits upright and now he has a place to put his sippy. The integrated cup holders on each side are conveniently designed to fit common beverage holders such as 20 oz reusable water bottles. This is also nice for me as I don't need to be constantly handing him his cup every time he's thirsty. The mesh on the back of the seat is also great for keeping him cool in warmer weather and the material wipes down easily if he spills mistakenly, which he has done – twice!
One of the biggest concerns parents have about car seats is the installation. To help with some of this, Britax offers both a comprehensive step-by-step booklet and an online video. Additional picture instructions are also on the side of the seat for quick reference. For Canadian residents, these instructions are in both French/English.
When putting the seat into my vehicle, my husband was surprised at how easy the Frontier to install. Because it sits flat against the seat, he found it easier to position and connect.
Why 5 -points for so long? Even though some of my friends have already moved their kids out of their 5-point harnesses into traditional boosters, we feel safer having our little guy in a seat that protects him if we are in an accident and hold him securely. Because many boosters use the car's seat belt system, there is always a chance the seat belt could fail in an accident leaving your child unprotected. In the event of an accident, a five-point harness system is designed to make contact with the strongest parts of the body – the hips and shoulders, and transfer crash forces over those strong parts of the body.
I highly recommend this seat for parents who are looking to transition their toddlers (over the age of 2) into a seat that they will use for many years.
Some additional features include:
Compatible with SecureGuard which works with the vehicle safety belt in booster mode to prevent the child from sliding under the lap-belt portion of the safety belt during impact, thus minimizing the risk of abdominal injury (accessory sold separately)
Tangle Free, 5-Point Harness with 10 harness height positions (up to 20″) and three buckle positions for a snug and secure fit as your child grows
Certified for Aircraft Travel in Harness Mode
Energy-Absorbing Base deforms in the event of a crash to absorb impact forces
Premium, Push-Button Lower LATCH Connectors for a quick, simple, and tight installation
Harness-2-Booster converts to a belt-positioning booster seat
No Re-thread Harness Adjustment allows you to adjust the harness height without having to re-thread the harness straps
More information available at Britax's website.
*A sample was sent for review*