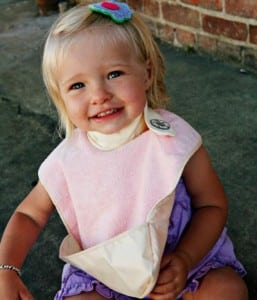 I have an entire drawer of bibs: drool bibs, feeding bibs, rigid plastic bibs, tie up bibs, bibs that go over the head, Velcro ones, snap closures, rubber bibs.  They are all different shapes, sizes, textures and colours but I have never had a preference for any particular one.  I would usually just grab one and not really think about it.  I guess because they all do the same job of catching some of the drips, spills and splats my messy eater sends their way.  Some is the key word in that statement because almost every time my little guy is finished eating I take off the bib to find his clothing covered in food or at the very least with a wet neckline.  It has been a give that I change his outfit after every meal.
Dabib has changed my thinking forever.  We are using one of the Dahugs bibs made of super-absorbent Micro-Fibre terry and loving it.   Not only is this bib extremely stylish and cute, it works like no other bib before it.  We just had a very messy dinner of spilled water, pureed fruits and veggies and cracker crumbs and my son's entire outfit is dry and clean.  All I had to do was roll up his sleeves and we were good to go.   I am looking forward to cutting my baby laundry piles in half.  Less time with my Maytag means more time to spend with the kids.  Dabib is the perfect bib to protect special occasion outfits when changing is not an option.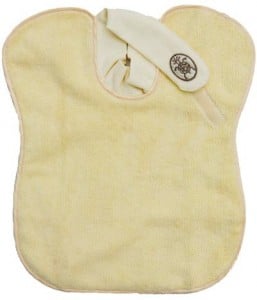 I love that the Dabib neckline is wide and super soft so it will not dig into babies' delicate skin, and that it closes in the front so no fussing behind my son's neck, which often annoys him when he is anxious for his dinner.  The bibs are machine washable and dryable and come in an array of soft coloured solids and prints to match any outfit.  Dabib also makes a very cute wipeable waterproof  bib, Dagiggles, and a matching burp cloth, Daburp.
Dahugs features:
Patented "Scrunch Collar" keeps liquids from getting under the bib, reducing leakage of fluids onto clothes and babies skin
Food pouch catches crumbs and drips – hidden flat on the back of the bib when not in use, it creates a stay open pouch when folded  forward.  Food hits an outside sealed seam vs. going into an inside seam and getting stuck – so the bib launders beautifully
Front closure Velcro strip, easy to put on and take off, is adjustable so it fits infants through toddlers
Extra large hour glass shape protects from shoulder to shoulder
Made of environmentally friendly materials, non-toxic, lead-free
The Dabib might as well be the only bib in my drawer because I know it will be the one I reach for over and over again.
---
Related Articles:
Thank you Dabib for sending us a Dahugs bib to test out.
---