While nothing competes with that new baby smell, Noodle & Boo Super Soft Lotion is definitely the next best thing. Their baby powder scent will transport you back to your own childhood when you emerged from the tub freshly scrubbed and smelling sweet.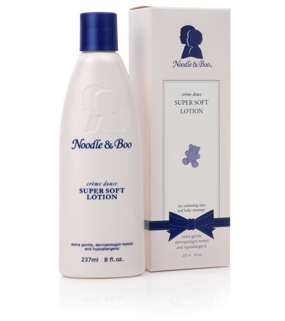 After finding out that her children had ultra-sensitive skin, Christine Burger developed a line of natural baby skin care products, which she ultimately named Noodle and Boo. Noodle and Boo seek to provide parents with a wholesome, natural baby skincare line.
I recently started using the Noodle and Boo Super Soft Lotion after my son was born. It is an ultra-light cream that uses emollients to gently nourish skin and provides a layer of antioxidants (vitamins E and C) that help fight everyday effects from exposure to the environment, all while leaving your baby's skin touchably smooth and delicately soft.
Baby massage provides many positive benefits ranging from enhancing neurological development to helping your baby learn to relax. Massaged babies are better sleepers and are more alert when awake. This type of contact also develops and supports self-esteem and lets your baby know that he or she is loved. I've been using Noodle & Boo's Super Soft Lotion after my son gets out of the bath for his daily baby massage. It leaves my son's skin hydrated and soft. It has this light scent that I just can't get enough of and I love that people comment on how great he smells.
This lotion would make a wonderful gift for moms and dads-to-be at only $14.00.
*Thank you to Noodle & Boo for providing us with this sample for review*
---