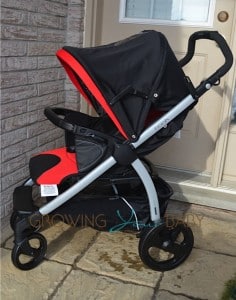 The Book Classico stroller is a complete departure from anything we have reviewed from Peg Perego in the past. The company's designers have listened to parents and created a lightweight stroller that will go where you do.  Plus, a sleek aluminum frame gives the Book a modern look, while the leather accents give it a bit of style.
We have been testing the Book out for a couple months and have been impressed by its performance. Here is what we found.
Out of the box the Book is ready to go in under 10 minutes.  All you need to do is pop on the back wheels, unfold and attach the storage basket underneath.
From birth the Book can be used with the Peg Perego Primo Viaggio 30/30 infant seat or in the full reclined position for a sleeping baby.  Two adapters are hidden under the seat that pop up when you are ready to use the stroller as a travel system.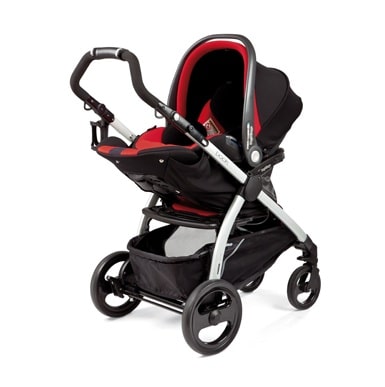 For safety the seat has a 5-point harness that is adjustable to 3 heights.  The lock itself it rigid enough that my  son wasn't able to break free, which I like.  The book has a nicely padded seat that is contoured to keep little ones comfy.  It also features a 4 position recline, which rests flat(150 degrees) for a sleeping newborn.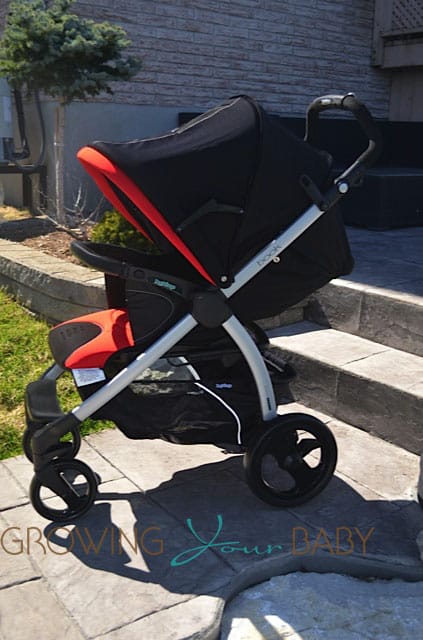 For parents who want one. There is a bumper bar included that pops in once you remove the included pieces on each handle.  I don't tend to use it unless, I am attaching a snack tray or toys to it.
The Book features an awesome double panel canopy that can be unzipped to provide full coverage.  This canopy is unique because it is double lined with a upf 50 fabric that also has a mesh panel that can be uncovered to increase airflow through the stroller.  The canopy can also be locked in place for windy days and moved forward to completely shield your child.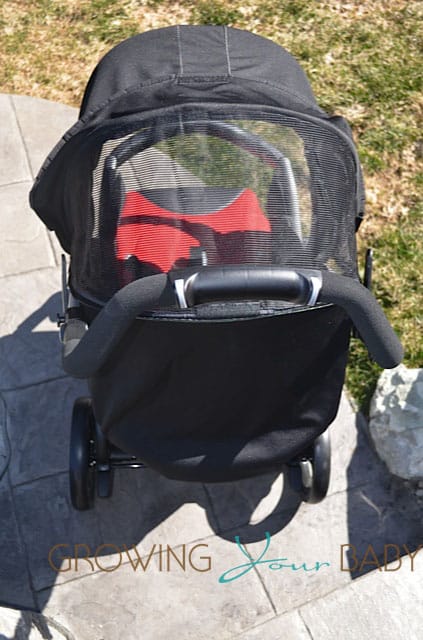 At 14″ wide,  24″ inches long, and almost 10″ deep at the back, the storage basket is both spacious and easy to access.  It also has a spring loaded bar at the back that allows parents to lower the back of the basket to get at hard to reach items.  During a day out shopping I was impressed by the amount of bags I was able to stuff in this basket.  That will come in handy this Summer when we head for the day and need to bring snacks, towels and a change of clothes with me.
The Book pushes effortlessly thanks to 2- 6.5″ front and 2- 10″ back 'Easy Drive Wheels'.  Designed with ball bearings and soft suspension, it goes over most terrains smoothly.  During our test we used the stroller at the park, the mall and around our neighbourhood. Because we live in Canada, we also had the opportunity to run it through the snow a few times and it did well.  It is not an all-terrain stroller but it will go through a bit of snow.  It will not, however, go through a foot of snow.  It does prefer dry or slightly wet pavement.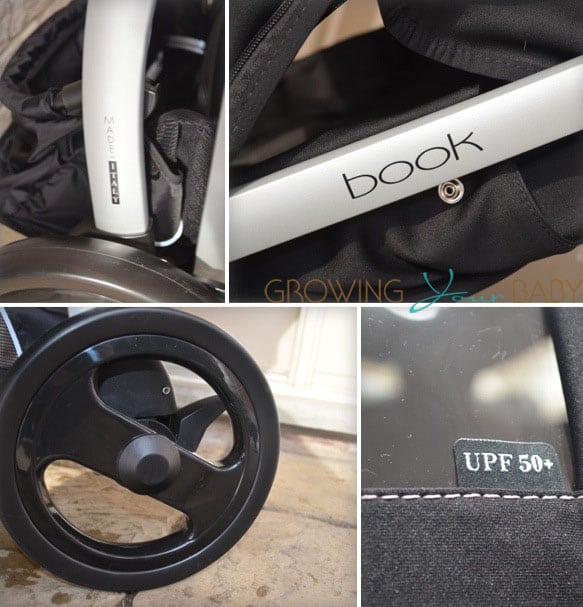 Parents will love the adjustable 5-position handle bar, which has a center hub for one-handed strolling.  When folded, the stroller rests on the handle so Peg Perego has added two silver nubs that protrude from each side to prevent the handle from getting scratched.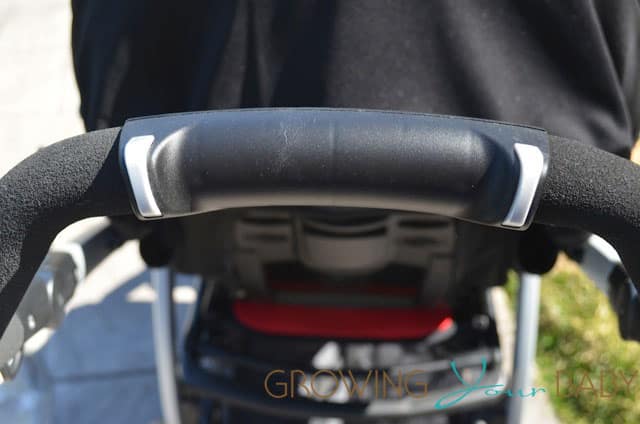 The Book uses a brake bar that is easy to press down to actuate and flip up to turn off.  Easy to do with bare feet.
The fold on the the book, is what gives it it's name.  Simply pull the lever on the bar above the shopping basket at the back and the whole stroller folds forward and locks in place on both sides.  Easy, convenient and possible to do while carrying a baby or groceries.  I love the fold!  To ensure it folds easily, make sure that your canopy isn't locked in place before hand.
As with all of Peg Perego strollers, this lightweight stroller will stand on it's own when folded(front wheels have to be locked in place) and will not rest on the canopy, which parents will appreciate.  The lever that allowed you to fold the stroller now acts as a carry handle.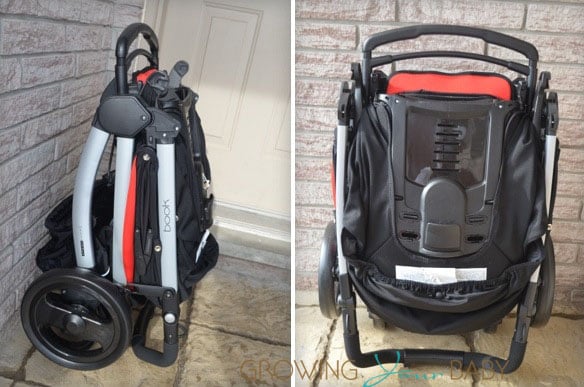 I have been testing the Book for a couple months now and have yet to find something I don't like.  It is stylish, pushes well and is fairly light, when compared to other travel systems on the market.  It could easily go from everyday use to an airplane if needed.
Peg Perego also has quite a few accessories for the book that are perfect for parents-on-the-go.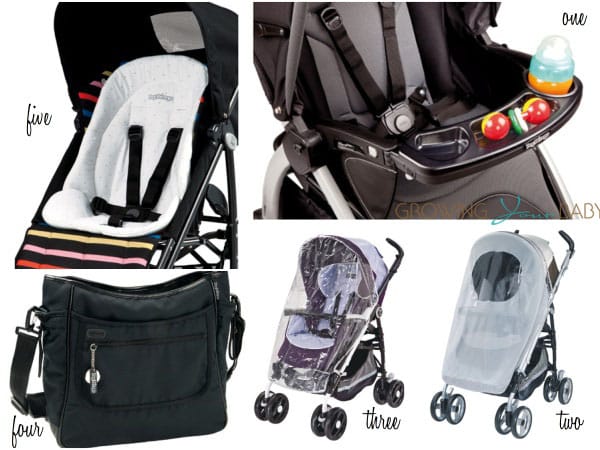 1. Child tray 2. Mosquito Net 3. Rain Cover 4. Borsa Diaper Bag 5. Baby Cushion
On top of the Flamingo that we tested, the Book also comes in 6 other cool colors.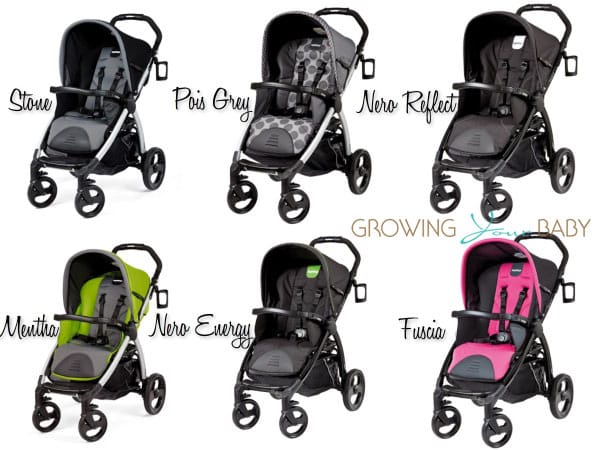 Specs:
Weight: 19.84 lbs.
Folded dimensions: 13.25"W x 32.67"H
Unfolded dimensions: 23"W x 41.5"H x 36.67"L
For ages: Newborn and up
---