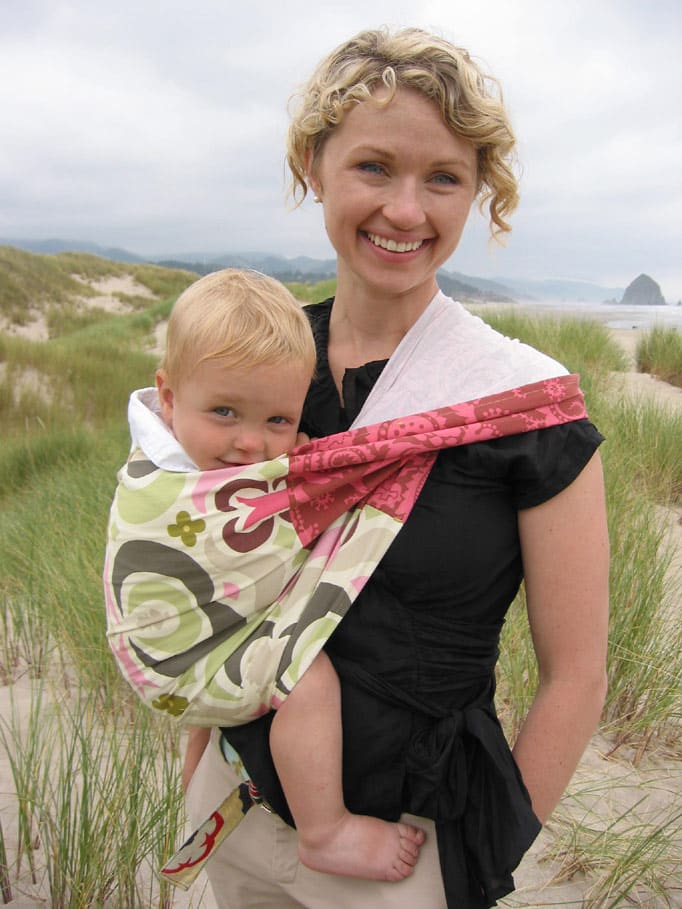 The Go Sling from Puj is an excellent carrier for busy families that are always out and about. This very simple pouch sling is so easy to use that you can put it on one handed while holding your baby. You can just throw it in your bag and pop it out when you need a spot for your baby and free hands. No need to put your baby down, sort out your carrier and then place the baby inside. There are no straps or buckles to adjust and you don't have to line up any seams. No tails to drag or folding to be done. It's ready to go whenever and wherever you are. You just toss it over your head and around your baby. That's it. Did I mention yet how pretty it is?
The Go sling is available in 5 styles. Each one is a combination of two very pretty fabrics. The smaller two sided piece of fabric marks the top. Once on it will turn down over your shoulder to pull the baby in towards your chest. You'll only need to adjust the fabric securely under your baby's bottom and behind your baby's knees and back to give a proper and safe seat. That's all you need to know to work the Go Sling(detailed safety instructions are provided on the website and with the sling). The fabrics them selves are gorgeous and very stylish. You'll love to wear them. You might even want more than one. I absolutely would love at least two more. It folds up so small that you can tuck it in anywhere and always have it ready to pull out. Added plusses, it's machine washable and available in a very wide array of sizes for an exact fit.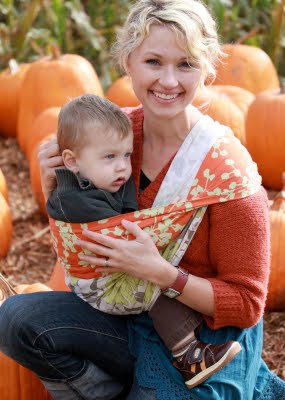 I use the Go Sling with my daughter who is now 8 months old and 20 pounds and it's quite comfortable. It took me a few tries to get it on correctly (because I'm really bad at directions, no matter how simple they are), but once I realized that I was basically trying to do it backwards, it all fell into place and now it's a snap. I can easily pop it on 1 handed while holding my daughter. Once inside she doesn't feel heavy at all as it nicely distributes her weight across my back. I also love the 2 patterns on my Florence sling. The body of the sling is one of my favorite Amy Butler patterns, so I love to wear it. My daughter always seems quite happy and comfortable in it as well. Another great plus is that the price ($48) is relatively low for such a convenient attractive carrier.
The Puj Go sling is a stylish, simple and convenient carrier that will be a welcome addition to your diaper bag or stroller basket. You'll love how it looks and you'll love how easy it is to put on, anywhere, anytime, no matter where you need to go. – Kiersten, Staff Writer
---
---
[ad]