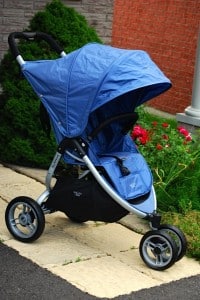 Valco Baby has always been known for their beautifully designed, rugged strollers.  I have met with the founders many times and love their passion for creating safe, functional gear that will last through more than one child. The newest addition to their collection, the Snap is an ultra lightweight stroller that is ready for every adventure.
Out of the box all I needed to do was pop on the front wheels, back bar and back wheels.  In less than 5 minutes I was up and running and ready to hit the park!
Perfect for children birth to 44lbs the Valco Snap is equipped with a spacious seat that measures almost 14″ wide 8.5″ deep and 24.5″ from bum to canopy.  To easily accommodate a sleeping baby the Snap has a one handed infinite recline that sits almost flat when at its lower point. When reclined this stroller has a 2 pocket storage at the back that can be rolled up to reveal a mesh cover to improve air circulation on a warm day.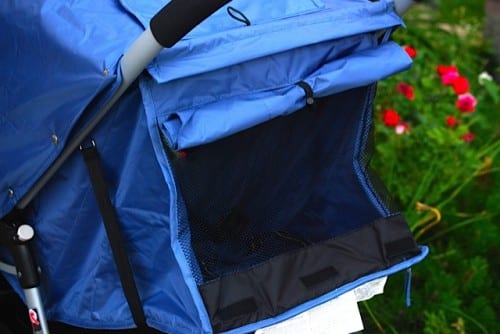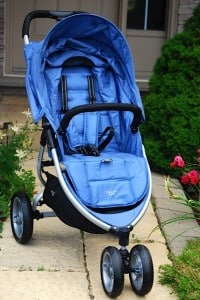 For safety the Snap comes with a 5-point harness, which can be adjusted to 3 positions by unzipping the back panel of the seat and re-positioning the clips.  Parents will love that the buckle on the seat is completely toddler proof. To open it you must push down on the buckle prongs while pressing on the central button.. To lock, it must be clipped together like a key and snapped into place.
Perfect for any weather the Snap has a huge double panel canopy with a sun visor that adds an additional 9″. Parents can keep track of their little ones with the peekaboo window that can be rolled back to reveal mesh for more airflow.  The sturdiness of this canopy was tested to it's fullest a couple weeks ago when we got caught in a mini monsune while coming home from the park.  With my youngest son shrieking in the seat, I was thankful that it was strong enough to not blow backwards in the high winds.  If you are outside a lot and need constant protection from the elements an additional raincover is available through the Valco Baby site.
One of the features that I love about this stroller is the shopping basket.  Measuring  16.5″ long 13″ wide almost a full foot high, it easily holds a large tote or diaper bag plus a snack bag or a jacket.  This is also handy for vacationing families who need to tote towels and supplies to the beach.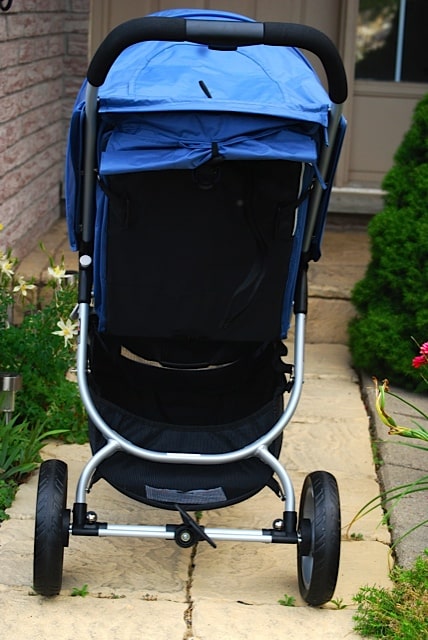 For our test we have been pushing the Valco Snap all over our city.  It has been to the park, the market, the local zoo and through the subdivision behind our house that is still under construction.  It has done well under most conditions, only waivering when going over muddy terrain.  It is not, however, made for mud, but it did so well on the grass I thought I would push it just a bit harder.  On pavement this stroller has an effortless one-handed push and is easy to manoeuver in busy places.
Designed with 4 wheels to resemble a three-wheeled configuration, the snap features two – 10″ back wheels and a dual  front set that are each 8″.  No air pumps necessary, this stroller has tubeless tires!
Locking the wheels is 'flip-flop' friendly as it is done with an on/off switch, which is located on the back of the frame.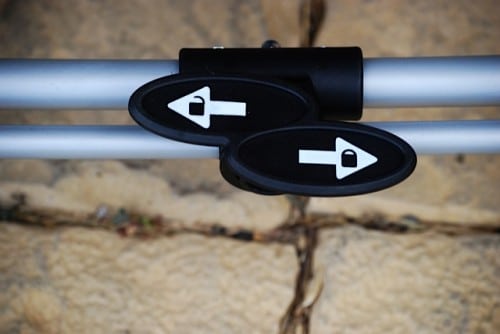 To  close the stroller just press the side button and the handle lever and the stroller will fold forward into itself and lock. Valco has added a carry handle underneath the stroller for easy transportation – just fold and go! Weighing in at just 13lbs, this stroller is both ideal for everyday use and travel.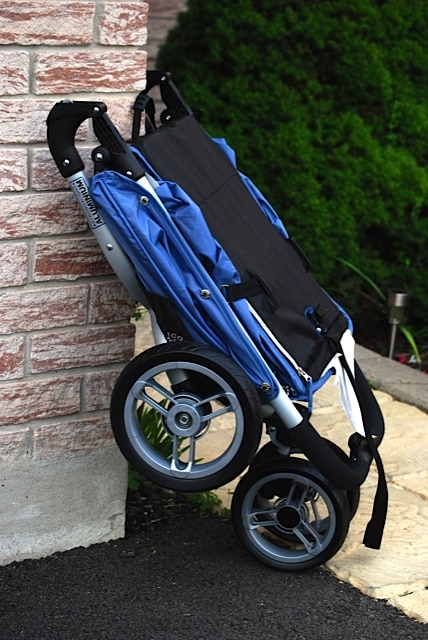 Valco has done a fabulous job of designing a stroller that will work for both the urban and suburban family.  From the easy to clean padded seat, to the tubeless tires, they have listened to parents and created a product that is comfortable for both mom and baby.  Priced at $250, the Valco Snap is also a full featured buggy that won't break the bank!
Available in three colors; Black, Purple and Blue.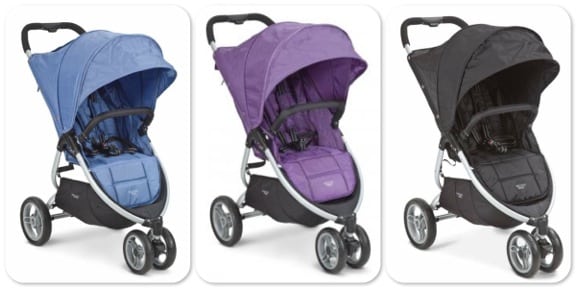 ---
SPECS:
Stroller Weight – 13 lbs
Open – 20.5″W x 32.3″L x 41″H
Folded – 20.5″W x 33.5″L x 10.5″H
Maximum Passenger Weight – 44 lbs
---