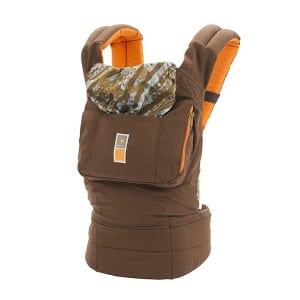 I love wearing my babies and having a great carrier allows me to be close to my wee one while giving me the ability to still get things done and travel light. As a parent, it's sometimes difficult to tackle your "To Do" list with a little one around needing some much care and attention. I found that both of my boys loved being in a carrier that allowed me to get things done while also giving them the comfort they need.
I recently had the opportunity to try out the Umba Print Carrier by Ergobaby and it's no wonder that Ergobaby has a stellar lineup of international design awards for its carriers! Ergobaby carriers offer front, back and hip positions. Designed to grow with your baby from birth to toddler (3.2kgs with Infant Insert to 20kgs), making Ergobaby is the only carrier you'll ever need.
In October Ergobaby teamed up with Christy Turlington-Burns who worked closely with them to develop the Umba print by Ergobaby to help benefit her organization, Every Mother Counts. Every Mother Counts is a campaign to end preventable deaths caused by pregnancy and childbirth around the world. They inform, engage, and mobilize new audiences to take action to improve the health and well-being of girls and women worldwide.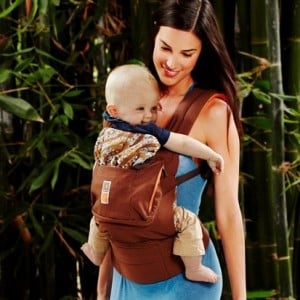 One of the very first things I noticed about the Umba carrier was the unique pattern. The authentic African "Umba" pattern, created by Chantal, a local designer in West Africa, was chosen by Christy to merge the unique sensibilities of African textile design with a stylish, one-of-a-kind twist on products parents can use every day. Chantal provides for her family in Togo through textile design; her batik method involves a specially carved wood stamp, hot wax, and a white piece of cotton, resulting in a wonderfully natural pattern with broad appeal. With brown and orange accents, you can be sure of two things; you'll get a lot of compliments on your baby carrier, and you'll be supporting mothers and children around the world with your purchase.
When I received the Umba Print Carrier it didn't come with an instruction manual – and while I was confident I could use the carrier correctly I wanted to double-check; so I went to the Ergobaby website in hopes of finding a manual, instead, I found a series of instructional videos showing how to use their carriers in each of the positions. I cannot say enough about how wonderful these videos were – they were clear, and easy to follow and they ensured that I was in fact, using the carrier as it was designed.
Upon watching the videos I was able to easily use the carrier. I personally prefer to use either the front or side (hip) wearing positions, but as I mentioned you can also use the carrier to position your wee one on your back. I would recommend using a partner to assist with getting the baby in the back wearing position, both for safety and for ease. Note: An Ergobaby Infant Insert (sold separately $25.00) is required for use with the carrier from birth to 4/5 months or until baby has developed head control.
Having tried out a number of carriers with both my first son and now my second I've found that many cause my back to ache after a relatively short period of time. While my second baby would be considered "plumper" than your average infant the Ergobaby carrier was able to distribute his weight evenly and I found I was able to carry him for a longer period. The padded waist belt ensures baby's weight is evenly distributed between your hips and shoulders while the adjustable, cushy padded shoulder straps provide you with ultimate comfort.
One of the best things about all Ergobaby Carrier is that they hold your baby in an ergonomic, natural sitting position. My son gets so comfortable that 80% of the time he ends up falling asleep!
One of the reasons I love to use a baby carrier is the ease, sometimes it's just easier to slip your baby into a carrier rather than lug out a bulky stroller. The Ergobaby Carrier is lightweight, compact, easy to transport and promotes easy mobility by being great for tight spaces, uneven surfaces and stairs – whether in or outdoors. I now carry the Ergobaby carrier with me whenever I go out and I've found it to be a lifesaver! My second son HATES the grocery store for some reason – If I have him in his infant seat in the buggy he screams from start to finish of our shopping trip. It's gotten so bad, that the manager of the store has come out on several occasions to see if I "need any help" quieting him. It is my go-to for every shopping trip and as soon as I place my son in the carrier he's silent, it might be the comfort of the carrier, or the fact that he's so close to me or it could be that it gives him the ability to look around – whatever the reason, the Ergobaby has been a life saver! … Plus it allows me to free up valuable real estate in the shopping buggy
Some of my favorite features on the carrier are:
A hood that allows privacy for a sleeping baby, discreet breastfeeding and sun/wind protection
A pocket that's perfect for your keys, a small wallet and your cell phone
It's machine washable! As a parent you come to appreciate how important this is as accidents do happen and your gear does get messy sometimes.
I love that Ergobaby has developed this Guest Designer Series because hundreds of thousands of women die from pregnancy-related complications each year; 90% of these deaths are preventable! Each year Ergobaby will continue the Guest Designer Series for multiple years and will be featuring a new celebrity designer annually.
I love the care and attention that's been put into the design of the Umba carrier – from the unique pattern and excellent materials to the logo; every attention has been given to the details. The hood even features an embroidered "MY MOM COUNTS" which I found prompted people to ask about the carrier thus allowing me to explain the partnership with Every Mother Counts and the benefits of purchasing the carrier.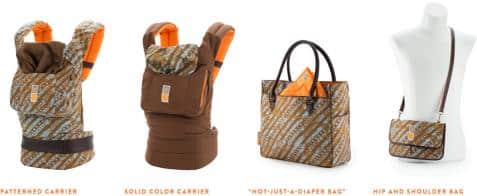 This Ergobaby Guest Designer Series features four different products: Two carriers (Umba Solid & Umba Patterned), a Diaper Bag and a hip and shoulder bag. A purchase of one or all of these beautifully crafted products from the Ergobaby Guest Designer Series helps prevent pregnancy-related complications and even death, through the work of Every Mother Counts. A portion of every purchase made on Ergobaby.com will support Every Mother Counts in this very important work.
"I founded Every Mother Counts to help raise awareness about a global tragedy that is largely preventable. Through partnerships like this one with Ergobaby, we hope to engage new audiences

To better understand the challenges and the solutions while encouraging them to take action to improve the lives of girls and women worldwide." – Christy Turlington-Burns
Overall, I can't say enough about the Umba Print Carrier by Ergobaby. From the classic design, attention to detail, functionality and ease of use this really is a carrier that will stand the test of time while also supporting an excellent cause. Retailing for $145.00 I'd highly recommend this carrier to parents!
Standard Features
Comfortable for Parents: Baby's weight is evenly distributed between the hips and shoulders
Ergonomic for Baby: Baby is cradled in a natural sitting position
3 Carry Positions: Front, Back and Hip
Baby Weight Range: 7*-45 lb/3.2* – 20 kg (*Newborn with Infant Insert)
Stitching: Reinforced at all fabric intersections for extra durability
Shoulder Strap Length Range: 24"-44" (61cm-112cm)
Waist belt Circumference Range: 26"-55" (66cm-140cm)
Large Zippered Storage Pocket
Hood
Machine washable
Specs:
Classic Fit
Shoulder Strap Padding: 1" High Density PU Foam
Body Material: 100% Cotton Canvas
Lining Material: 100% Organic Cotton Poplin
Carrier Weight: 1.5lb/.68kg
Body Color: Brown
Lining/Hood Color: African "Umba" Print-Shades of Brown
Embroidered "My Mom Counts" on the Underside of Hood
*Thank you to Ergobaby for sending us this carrier for review*
Related Articles: