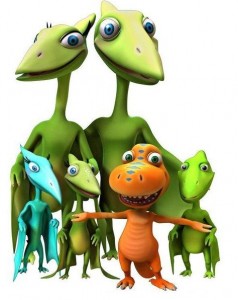 Get ready, Dinosaur Train fans! PBS Kids is airing a new Dinosaur Train episode on January 17.  In the all-new episode, "The Good Mom;" "Diamond Anniversary," Mrs. Pteranodon meets fellow mom Millie Maiasaura, who is a little too over-protective of her kids. The two moms share some time comparing mothering methods in a play date at the Big Pond. And, Mr. and Mrs. Pteranodon decide to surprise each other with gifts on their anniversary.
Dinosaur Train, created by Craig Bartlett (Hey Arnold!), allows young viewers join Buddy and his adoptive family of Pteranodons on whimsical adventures through prehistoric jungles, swamps, volcanoes and oceans as they unearth basic concepts in natural science, natural history and paleontology. The Dinosaur Train is a colorful locomotive, customized to accommodate all kinds of dinosaurs, and it has the ability to visit the Triassic, Jurassic and Cretaceous worlds, while the Train's Conductor, a knowledgeable Troodon, provides passengers with fascinating facts along the way.
Dinosaur Train is a Parents' Choice Recommended TV series, and the DINOSAUR TRAIN website received a Parents' Choice Silver Award and was the recipient of a prestigious 2010 Prix Jeunesse Award.
GIVEAWAY: To celebrate the premiere of the new Dinosaur Train episode, Dinosaur Train is giving away a Dinosaur Train footed pajamas ($26) to one lucky Growing Your Baby reader!
Congratulations to our winner: Rebecca Graham!! 
---