One product that I have recently fallen in love with is Joovy's Foocot($70).  We have been testing this foldable bed for a few months now and I have yet to find something that I don't like about it. Portable, compact and comfortable this bed works for any sleeping situation.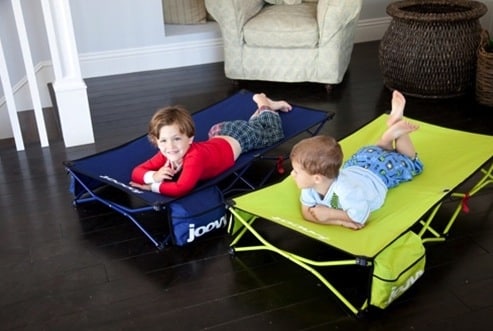 Out of the bag, this bed sets up in seconds – literally.  By just pressing down on the legs, the bed folds out, locking in place -sitting about a foot off the ground.  It also comes with a soft blanket so there is no scrambling for parents looking for the right size to fit the bed.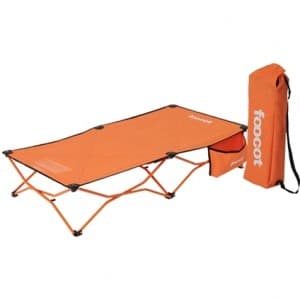 Once open, families can use the Foocot for just about anything.  It is great as an extra bed for a sleepover, can be placed in a tent if you have a little one who doesn't want to sleep on the ground or is nice as a comfy spot for your kids to lay when they are watching TV.
We only have one Foocot and it seems to cause problems because they both want to use it.  Thankfully my boys are still small(ish) and fit side by side if they are watching a movie or head to feet, if they want to nap in it at the same time.
I like that when they are done it can be folded quickly with the sheet on and easily stored in it's travel bag in a corner or under a bed.   I also like that it is fairly compact so it doesn't take up much space when it's not in use.
When designing this bed Joovy did a great job of creating a bed that is comfy, easy to clean and convenient.  They also added a pocket to the each side to store snacks or toys.  Plus, to add more comfort Joovy offers a Quilted Pad($39), which straps around all four corners to keep it in place.
I can't say enough good things about the Foocot.  Every parent should have one 'just in case' they have little ones drop in and need a place for them to sleep for the night.
---
SPECS:
Weight: 6.61 lbs.
Folded: 8″ H x 6″ W x 24.5″ D
Assembled: 9.5″ H x 25″ W x 48″ D
Child Max Weight: 75 lbs.
Child Max Height: 48 inches
---
[ad]