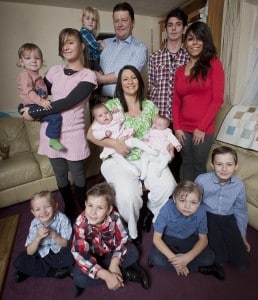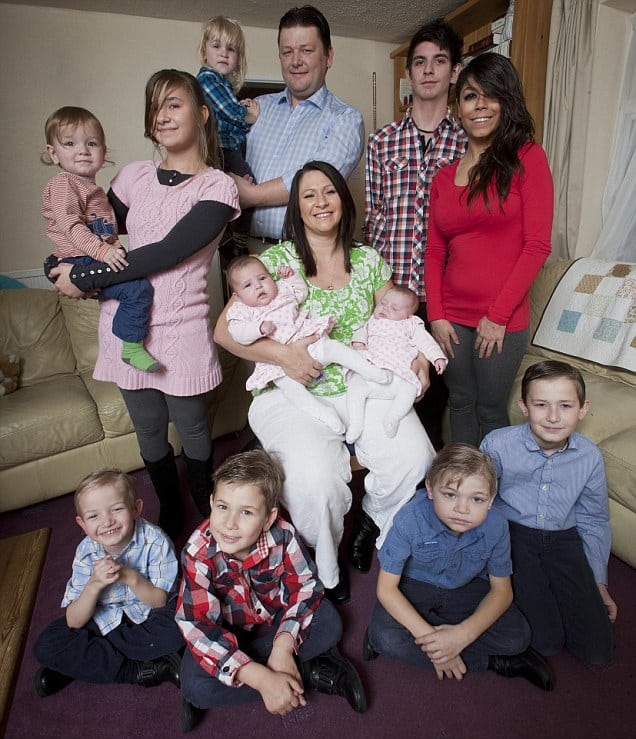 Thirty-seven year-old Tania Sullivan has spent last 19 years of her life being pregnant. And now, the mother of 11 children is currently expecting her 12th baby just months after giving birth to twins!
Tania and her 39 year old husband Mike have no complaints about their growing brood. In fact, the family does not claim any benefits to support their kids. Tania also does not hire any babysitters and home schools her children.
To take care of all their brood the Sullivan family had to buy a 17-seater minibus knowing that though the average of 20-25 miles per gallon was far less compared to between 50 and 60 miles per gallon for a family hatchback, the minibus served their purpose better than a 'dwarf' hatchback in comparison.
The family also regularly goes through 20 loaves and 50 pints of milk a week. But all the spending is through Mike's own business – Sullivan Joinery and Crafts as they refuse to claim any state handouts apart from the tax credits and child benefits.
What has been the most challenging part of her life for Tania is not raising the children but the loss of eight due to miscarriages. In the last 19 years, this mom has conceived 20 times but lost eight of her babies during pregnancy.
This time around the couple was quiet about the pregnancy in fear of a miscarriage. It was only after the first trimester that they revealed the news to their kids.
'We obviously wanted to make sure the pregnancy was OK so waited until the first scan confirmed all was well and also how many babies were there. Everybody was thrilled to find out another baby was on the way and they immediately began to discuss whether they wanted a boy or girl and what the baby would be named," says Tania.

"I'm still feeling well – albeit tired – but tiredness is part and parcel of being pregnant especially when you have twins to take care of at the same time."
Tania had two children from a previous relationship – Ben, 19 and Stephanie, 18. With Mike she has 9 children – Caitlin, 12; Harry, nine; Eddie, seven; Sid, six; Patrick, five; Oliver, three; Joseph, one; and twins Anne and Libby, who are eight months old.
With eight children under the age of ten, Tania insists on homeschooling them in their five bedroom house in Kent. She is also currently working on her third book about her extended family and runs a successful website on her family.
'We have been very busy though, so time has been passing very quickly and we haven't really been able to sit and meditate on the new baby's arrival really," she says.
Even as the 12th baby is on the way, Tania might be hoping for a 13th blessing.
---
[ad]