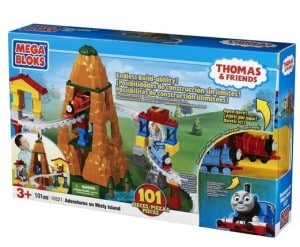 I recently had the opportunity to test out several Mega Blok playsets with my children and it's been lots of fun. A brand new addition to their Thomas & Friends Collection, The Thomas & Friends Adventures on Misty Island ( ages 3+, $59.99) is a quite elaborate set with 101 pieces that offers a wealth of play options for your Thomas fans. My 3 and 5 year old loved it! My 2 year old really wanted a shot at it too, but it does have a lot of smaller parts and really is more suited to the listed age on the packaging. In the end, I did let him have some time with the 2 included trains, Thomas and James, well supervised, and he was pretty thrilled too.
Based on the Thomas movie, this set puts Thomas and James on the rails to transport needed construction supplies to the Sodor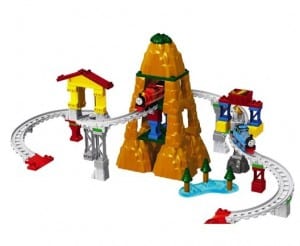 Search and Rescue site. On the way, the adventures they can have vary with your child's imagination. This set is great for slightly older children and offers much to keep them busy for hours. My 3 and 5 year old did need some help assembling the set. Lots of pieces does mean it's a bit more complex, but once assembled it's lots of fun for everyone. It includes a track that raises up through a mountain and back down again with  tunnels, break-through barricades and falling rocks. It allows them to create their own adventures within the framework of the set. This set may also be combined with other Thomas & Friends Mega Blok trains and play sets for even more fun and adventure and will be a big hit with any train or Thomas fan.
As with any Mega Blok set, your child will have endless fun and it works with other Mega Bloks you already have. So not only are you giving your child a great new Thomas play set, you're expanding any existing Mega Blok collection as well. Fun and practical, while offering endless opportunities for your child to develop their fine motor skills and exercise their imagination. – Kiersten, Staff Writer
---
Related Articles:
*Thank you to MEGA Brands for providing us with a sample for review*
---
[ad]