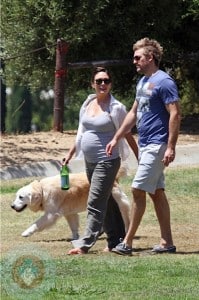 Congratulations to Lindsay Price and Curtis Stone on the safe arrival of their first child – a boy!
The celebrity chef and Top Chef Masters host confirmed the exciting new on  Twitter saying,
"Lindsay and I are so excited to welcome our sweet little baby boy into the world.  It feels so great to be a dad!!!!"
The new addition, who is rumored to have been named Hudson,  arrived Nov. 6 in the US.
Information about the baby's arrival is scarce because the couple is a 'lucritive' magazine deal is in place for exclusive first baby photos.
Last month Lindsay celebrated her baby shower with close friends Sarah Michelle Gellar , Tiffani Thiessen and Rebecca Romijn.
Related Articles:
---
[ad]