Mealtime for many parents is a hectic time especially those with picky eaters.
As your child goes through that fussy stage we have put together a list of 8 great feeding tools that may help bring organization and entertainment to your table.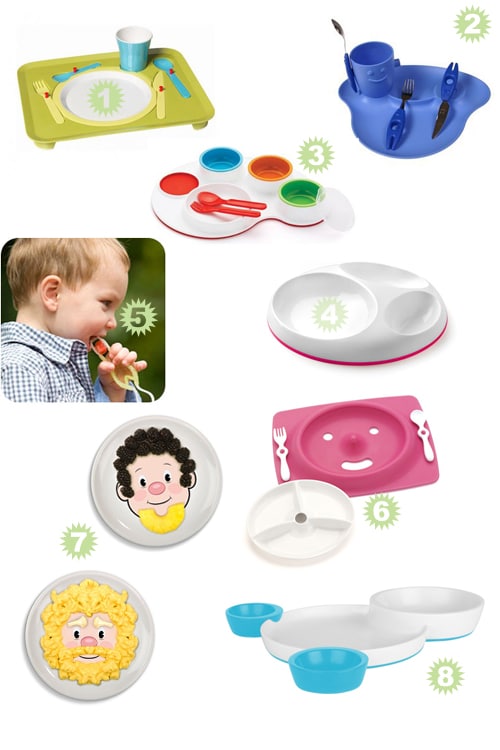 Royal VKB Puzzle Dinner Tray – This set which includes a knife, spoon, fork, plate and cup, will help your child learn the correct table setting while eating. $49cdn
Trebimbi Party Dinner Set – This set brings a ton of fun to dinnertime! It includes a plate and a smiley-face cup that will make you grin back whenever you see it. The utensils are manageable and proportioned for small hands, with easy-grip handles. And, their special design means they can also connect to the cup and plate for interactive play. Perfect for ages 2 to 6. $45

Skip Hop Palette Plate – This bright dinner set features lift-out individual bowls, a skid-resistant base and area for cup, three translucent lids for storage and matching utensils. $28
Boon Saucer – This modern looking divided plate features an edgeless plate design that helps prevent little hands from lifting it off the table. The divided sections keep foods separated and a slip-resistant base grips the tabletop to keep the plate in place.
Tinytongs – These pint-sized tongs are a great way to teach little ones how to pick up food easily. They are free of sharp edges and pick up the right amount of food for a little mouth! Available in 4 colors $7 each.
Skip Hop Mate – This PVC-free and BPA-free place setting features soft and sturdy skid-resistant place mat and Happy-face cutouts make the plate easy to pop out from below. $20
Food Face Dinner Plate – This unique plate creates the perfect opportunity for kids to play with their food and exercise their creativity at the same time! Veggies, Pasta or potatoes – the possibilities are endless! This mid-size plate is crafted from hotel-quality, food-safe, high-fire ceramics.$10
Boon Groovy – This interlocking plate and bowl set includes a toddler-sized plate with two separate compartments along with two small bowls that attach to the edge of the plate in a variety of positions. The small bowls are perfect for dipping or for serving small portions.
---
[ad]