In the late 80's SIDS deaths were at an all time high.   In 1991 when the 'Back To Sleep' campaign was started, those numbers started to decrease.  In recent years we have evolved so quickly technologically that it almost seems like we are over analysing our babies. It started with the baby monitor that came with a sleep pad to alert parents if their baby had stopped breathing and has advanced to products that can be directly applied to your child to track their vitals.
The latest gadget to track your baby, which is currently up on startup site Dragon Innovation, is called the Mimo.

This tiny device can be attached to a special infant onesie to allow parents to track their baby's
Respiration
Skin temperature
Body position
Activity level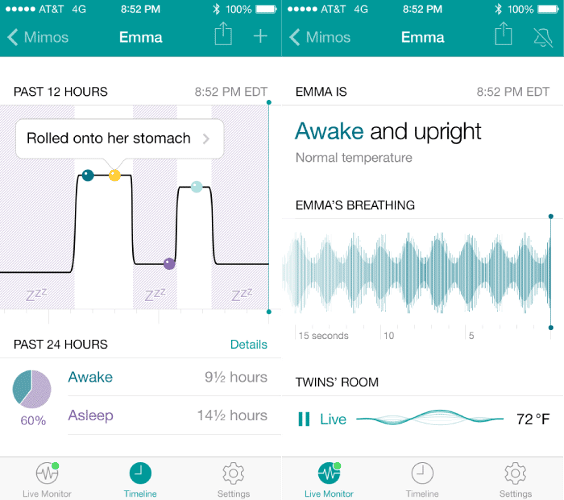 It also lets parents listen to audio in real-time.
Mimo starts as an organic cotton baby suit and then applies Rest Devices' proprietary thin-film, non-contact, and machine washable sensors. By pairing the Mimo baby suit and Turtle (a Bluetooth Low Energy system) and the Wi-Fi Lilypad, Rest collects and sends biometric and audio data to parents in real-time.
With the data collected, the iPhone and Android app processes and run long-term analytics about your baby's sleep trends and development over time. In addition, the company provides alerts to let you know if there are changes in breathing patterns, body position, temperature levels, or if your baby wakes up or falls asleep
Rest Devices also notes that:
Mimo baby suits are fully machine washable
Turtle's are water resistant, too big to be a choking hazard, and totally chew-safe
Mimo is completely designed and manufactured in the USA
Mimo uses Bluetooth Smart in order to minimize the transmission power required for wireless communication
For $100 parents get 3 Mimo baby suits, 1 Turtle, and 1 Wi-Fi Lilypad.
Because I am an analytical person, I would probably buy this system. I was never good at writing down when the baby slept, woke up or ate as you are asked to do when you first bring them home. This would just be interesting information to have…
With that being said, I believe that we are WAY over thinking this parenthood thing. It was done just fine in the past when there wasn't video monitors or sleep sensors. Yes, we have come a long way(and SIDS deaths are less than half of what they were 30 years ago), but shouldn't a baby just be able to grow without having a monitor attached to them 24/7?
What do you think?  Would you buy this?
---