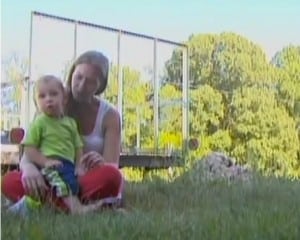 A 14 month old baby boy would have easily drowned in his backyard pool, if not for their family dog who held the baby on its back until he could be rescued.
On Sunday afternoon, Patricia Drauch walked into their backyard garage to grab a shovel to do some gardening with her youngest son Stanley in tow.
But within moments, she said, she could not find him anywhere. As she searched the backyard she finally spotted the toddler in the family pool.
"It was scary. His lips were blue. His eyes were rolled back," Drauch said. "It was the scariest feeling and the image stays in your head for a long time."
But Patricia noticed that instead of drowning the baby boy was floating on water. On closer inspection she found that the family's hunting dog, Bear had come to the little boy's rescue. The black lab was holding Stanley on its back and not allowing him to go under the water.
"[Bear] wouldn't move in the pool," she said. "He didn't bark. He didn't move. It was like he was afraid to move at all until I got Stanley up out of the pool and that's when [Bear] came up out of the pool with me."
Kyle, Stanley's 7-year-old brother recalls,
"Bear was trying to keep Stanley up so he wouldn't die."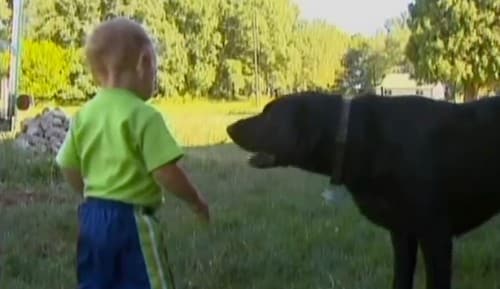 After Patricia pulled Stanley out of the water, the boy was still unconscious. She called 911 immediately but when she couldn't get through, she rushed him to the Marcellus Fire Department, which is about two miles from her house.
"On the way, he barfed up a lot of water and then he started to respond, but she kept going and she was just a little over the speed limit," said Kyle.
An emergency team looked him over at the fire department and he was later admitted to the Three Rivers hospital for further tests.
Found to be in good condition, the toddler is now back home to play with his trusty pal.
"I'd always told [Bear] since he was 4 weeks old that these are your babies, watch out," said Patricia. "He has big paws and they were little and I didn't want him to step on them, so it paid off teaching him to watch out for them."
Cass County Undersheriff Rick Behnke said this is the first time he has heard a story where a pet is saving the life of a baby.
"From the information we have, it seems to pan out," Behnke said. "It's an amazing story. The dog is a lifesaver. That's all I can say."

"If Bear wasn't out, I don't think Stanley would have made it," said Patricia. "He proved that he's got enough love for the kids he's more than just our hunting dog."
Stanley's father is now planning to put construction fencing around the pool to make sure no one else falls into the pool again.
---