Placentophagy, the practice of eating the placenta after giving birth has become more popular in recent years.  Many celebrities and new moms have spoken out about consuming the placenta in pill form after birth, and touted its ability to boost energy levels, encourage breast milk production and prevent post-natal depression.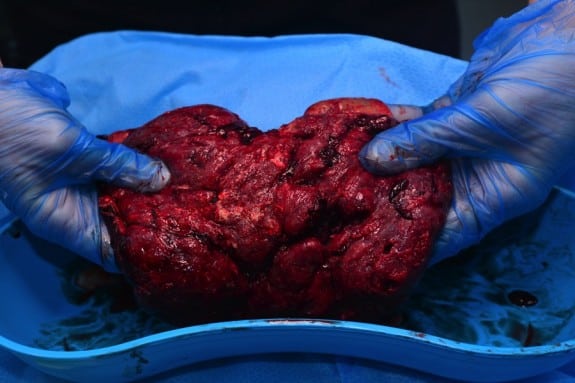 Because the placenta transports nutrients to the fetus during gestation, it is believed that it retains some of regulating hormones after delivery, and that consumption of the placenta by the mother will help her recover more quickly following childbirth by replenishing nutrients and hormones lost during childbirth.
Historically, the Araucanian Native Americans of Argentina dried and ground a child's umbilical cord, giving the child a little of the powder when it was sick and in Jamaica, bits of placental membranes were put into an infant's tea to prevent convulsions caused by ghosts.  In recent years new moms have eaten it in lasagnas shortly after delivery or taken capsules filled with the dried and ground organ for up to 3 months in hopes of seizing some of health benefits that many boast about.
But are there really benefits?  Doctor Crystal Clark doesn't think so.
In a new review, conducted by Dr. Clark, a psychiatrist specializing in reproduction-related mood disorders at Northwestern University, it was found there is not scientific proof that ingesting the placenta has any health benefit to new moms.
What's more concerning, she says, is that there are no studies examining the potential risks of eating the placenta, which filters out toxins and pollutants during pregnancy to protect the growing baby.
"Bacteria and elements such as mercury and lead have been identified in the post-term placenta," Clark told CBS News. "So if the theory is that we retain nutrients and hormones such as estrogen and iron that could be beneficial, then the question becomes what harmful substances can also be retained that could harm the mother or the baby if she is breastfeeding."
She also points out that "There are no regulations as to how the placenta is stored and prepared, and the dosing is inconsistent. Women really don't know what they are ingesting."
Clark and her research team reviewed 10 published studies on the topic, covering both the attitudes and motivations for eating the placenta and the consumption of animal and human placenta by nonhuman mammals. Their findings failed to show any human or animal evidence to support the popular claims that eating the placenta offers any benefits to new moms.
"We found that women most frequently chose to engage in placentophagy for the perceived benefit of improved mood and energy recovery," Clark said. "But when we looked at the animal studies, we were not able to find evidence that supported any of the health claims."
In addition, advocates often note that the practice is used in Chinese medicine.  Those treatments, Clark notes, are for various ailments, including liver and kidney problems, infertility, and low energy, but not in postpartum women.
"Our sense is that people aren't making this decision based on science or talking with physicians.  Some women are making this based on media reports, blogs and websites."