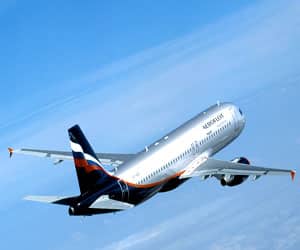 A Russian woman boarded a Moscow bound flight 30 weeks pregnant but came out holding her baby girl. The passengers and crew of the country's largest airline Aeroflot were taken by surprise when her baby girl decided to enter the world mid-flight on Monday.
Muscovite Anastasia Kozlova was 30 weeks pregnant and had just boarded the flight to Moscow from Ukraine's Simferopol airport. But only 25 minutes into the flight the mom began having contractions.
The pilot requested an emergency landing in the Ukrainian city of Kharkov. But in the meantime, co-passenger Sofia Biryukova, and flight attendant Marina Serebryakova moved Anastasia to the back of the plane and helped her deliver the baby.
"I never delivered a baby before but suddenly the understanding came what to do," Sofia said later. She works as a baby masseuse.
The baby girl, the mother's third, was named Varvara.
The challenge for the team onboard wasn't just the flash delivery, but also getting the baby breathing. Thankfully, Sofia knew what to do.
"I knew that is such cases, obstetricians pump liquid from the infant's mouth and nose by a special device in order to clear the airways. As there were no devices, I had to suck out the mucus using my mouth," the nurse said.
Another passenger Vladimir Zakhvatov says that the baby was still not breathing and Sofia had to repeatedly massage her chest.
"Then the girl started moving, took a deep breath and gave out a weak cry," he said.
The new mom and her baby were rushed to the local hospital immediately. Doctors say that it was the timely action of the nurse on board that saved the child.
But Sofia is only thankful that she could help.
"Thank God I was on board that plane and was able to help the baby and the mom. The girl is alive, which is the best thing that can ever be," Sofia said.
The mother and child are doing well at the hospital.
---
[ad]