If you're looking for really cute, practical and safe bags for your children, Laessig is the perfect choice. I recently received two samples from the Laessig 4Kids line, a mini backpack and a cooler bag. The only problem that I have with these bags is that my children are fighting over them.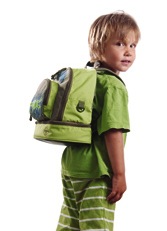 The Mini Backpack Classic is the perfect size for a preschooler and ever so cute. We have the Crocodile bag and my sons love it. It will absolutely be replacing my 3 years old's current plain blue backpack in September. He loves the crocodile on the front and I love the styling and features. The color combination of the blue and greens is really nice. It's very cute and super cool all at the same time. There is a handy pocket on the front perfect for small items that you want to have at the ready, like mittens or a winter hat. The exterior also has a side net pocket, a key hook, a name tag, reflective trim and a really great zippered bottom pocket with elastic straps that is perfect for a drink bottle. the main compartment includes a two way zipper and a zippered pouch on a hook, great to make sure it stays with your child. The material is safe, 100% pollutant-free containing no PVC, nickel, AZO. cadmium or phthalates. There are designs available for both boys and girls.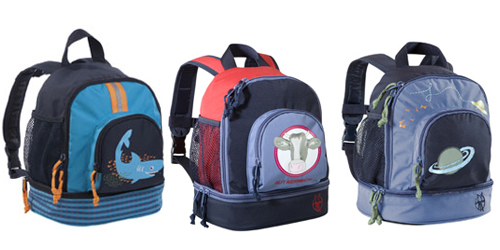 The Cooler Bag is also very cute. My Kindergartener has claimed it for lunch, but it's perfect for use in the car or on the stroller as well. It even comes with a set of stroller hooks. There are 4 designs that coordinate with the other bags, so they would make a great combination for school & lunch bag with the mini backpack or messenger. The bag is completely insulated, has an adjustable strap and two compartments. The main compartment is the larger of the two and has a mesh pocket as well as elastic straps on the sides, while the bottom is perfect for holding a drink, utensils or ice packs. We have the Shark, which is not only very cool, but purchasing one of the Shark bags supports the shark protection organization, Sharkproject International.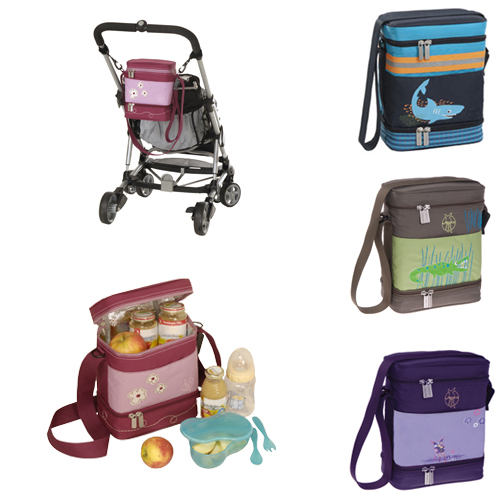 Laessig makes such a wide variety of really exceptional bags for children and adults, it's really wonderful to finally see them in person. I've admired these German bags for quite awhile, so it's really nice that they are now available at retailers in this country. The cute designs will please your kids, while the pure practicality and functionality of the details will make you happy too. – Kiersten, Staff Writer