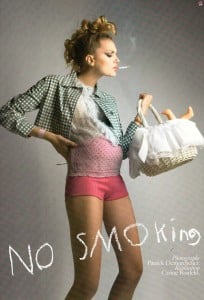 Women who smoke cigarettes during early pregnancy may be increasing their children's chances of being infertile, a new study says. Tobacco exposure could cause reproductive cells to not develop during fetal growth, leaving them lacking in full fertility as adults.
Scientists found that in fetal males, the immature reproductive cells were reduced dramatically when the mothers smoked cigarettes. The findings match earlier results that found the same happened in fetal females who were exposed to tobacco. These studies may be able to pinpoint the link between smoking and infertility.
Professor Claus Andersen, from the University Hospital of Copenhagen, examined 24 embryonic testes from fetuses between 37 and 68 days old. The germ cells, immature cells that become sperm, were compared in the fetuses from smoking mothers and nonsmoking mothers. The fetal germ cells of smoking mothers were nearly half as low as those who did not smoke.
The fetuses of smoking mothers also had a third fewer non-reproductive somatic cells than from those of nonsmoking mothers. Tobacco exposure seems to have a negative impact on the development of fetal cells during the early days of pregnancy.
The impact was dose dependent, so the more a mother reported smoking during her pregnancy – the more impact it had on the embryo.
A second study published at the same time found that adult males who smoke cigarettes also have lower fertility rates than those who do not smoke. The study did not compare exposure to second hand smoke verses smoking first hand. – Summer, staff writer
Related Articles:
SOURCE
Photo was originally from Vogue's No Smoking Editorial VIA
---