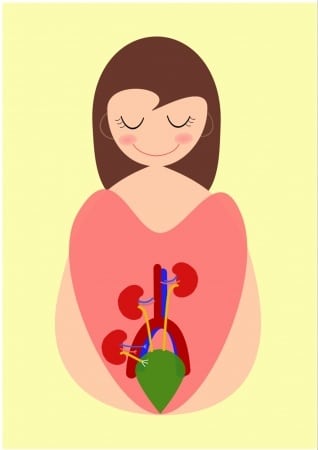 Two-year-old Eryn was born without fully functioning kidneys and doctors warned that the baby girl might not survive without a transplant. Thankfully, a donor was right at home when mom Dawn Howie was found to be a match and she readily gave a kidney to save her precious daughter's life.
38 year old Dawn was told she was an ideal donor after she and husband Mark were tested to see if either of them could donate a kidney to save their daughter's life.
The mum-of-four of Stocksfield Avenue, Fenham, Newcastle, said,
"Donating a kidney didn't seem like a sacrifice to me – it was just something I needed to do. I feel privileged to be able to give her a new lease of life."
When Dawn was 30 weeks of pregnancy an ultrasound revealed that the baby was having issues.   They were told that there were only 50-50 chances of her surviving after the delivery
When Eryn was born in May 2011 she was immediately whisked away to Royal Victoria Infirmary's Pediatric Intensive Care Unit.
The newborn had end stage kidney failure. Just three days after she was born she was taken into surgery as she was too tiny to be given a regular dialysis. Her parents were asked to prepare for the worst.
The operation was a success, but the catheter they inserted became infected, so had to be taken out to let Eryn heal.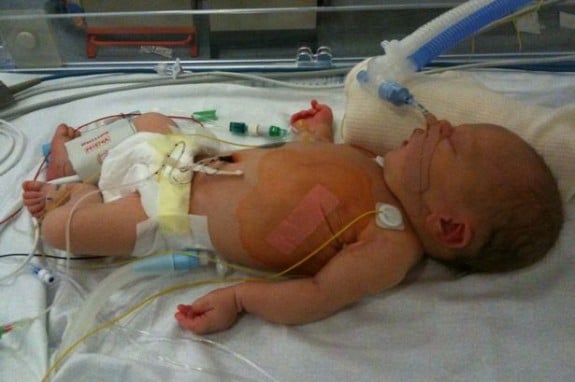 Luckily the hospital had a baby dialysis machine from a retired consultant that could be used to save Eryn.
At seven months old Eryn was finally allowed to go home but she had to visit the hospital three times a week for dialysis.
With three older kids Niall, 14, Callum, 12, and Kian, eight, at home, it was a challenge for them to attend the five hour dialysis sessions.
Therefore, for the last two years the family's schedule was divided between hospital and school for most parts.
Dawn said: "A typical day for us was to take the boys to school, go to hospital for five hours, then go and pick them up again. The boys have been amazing and absolutely dote on her."
At two years of age, and 22 lbs Eryn was big enough to get a transplant and that is when mom Dawn's kidney could be transplanted to the daughter.
The surgeries took place in two different hospitals.
Mark said, "I must admit, that day was the longest, toughest day in my life. It got to about 4pm and my stomach started churning and I thought things might have gone wrong. I timed it on my phone from the minute I left Eryn. It was something like 15 hours and 16 minutes until I got to see her."
Dawn was at the Freeman Hospital.
Mark, 40, a retail manager at the British Heart Foundation recalled, "Dawn said to me, 'I think the kidney's just left.' So I waited for five minutes when I heard the sirens and saw them rush in with the cooler box and take it to where Eryn was. It was a weird experience."
The operation was a success and the two year old is finally taking her first few steps to normal life.
"She's eating real food now – she used to be fed through a tube in her nose, and her medication is gradually coming down," said Dawn.

Mark added, "Now she's a different child. She took her first full steps yesterday, she's doing things we thought she'd never do. Things finally look like they're turning a corner and there's a light at the end of the tunnel. It's been a bit of a rollercoaster. We've just had to deal with what we had to deal with as it came. We are eternally thankful to the amazing renal team at the RVI who made Eryn's transplant possible."
The family now wants to tell others about what difference an organ donation can make.
Dawn said: "There are children all over the world with kidney problems that need help, and it's not widely recognised. It's a completely different world that you don't know about unless you have a poorly child. People are just not aware."
---
[ad]