Apparently 5 is the new 2 because for the third time this month a U.S. couple has welcomed a set of quintuplets!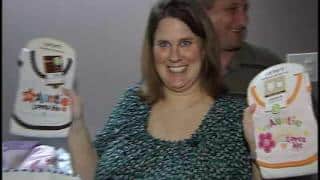 After a long struggle with infertility, Beth and Jim Glass of south St. Louis are now the parents of five tiny babies.
As with most couples who have had mega-multiples, The Glass' were shocked to find out that 5 embryos had taken. At six weeks, doctors said they thought she was pregnant with twins, but when they listened again at seven weeks heard not two – but five.
Beth was put on bedrest in early June to ensure a successful pregnancy and was induced today after getting to 33 weeks.
According to the hospital, the babies and mom are doing well.
In Birth order, the 3 boys and 2 girls weighed:
Abigale Elizabeth – 3 pounds, 4 ounces
Luke Mitchel – 3 pounds, 1 ounce
Evan Michael – 3 pounds
Brady Quinn – 3 pounds, 12 ounces
Sydney Elise – 3 pounds, 2 ounces
Congratulations to the couple. Life is about to get exciting!
Related Articles: