Breast milk is undoubtedly the gold standard for nutrition for newborns.  But for various reasons, like low supply, some parents, turn to the internet in order to fill their child's need 24/7.  But because breast milk that is sold online isn't regulated it can pose health risks to babies potentially expose children to infectious diseases.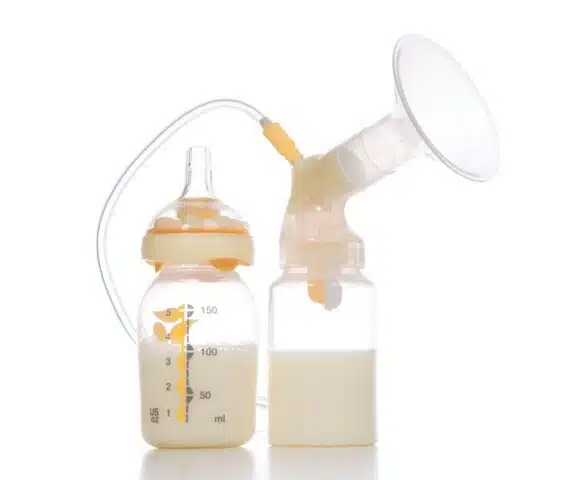 Looking to get a better idea of what was actually being sold to consumers, a team led by Nationwide Children's Hospital, including researchers from The Ohio State University and Cincinnati Children's Hospital Medical Center, purchased and tested 102 samples of breast milk advertised on milk-sharing websites.
While all of the samples contained human milk, they found that 11 also contained bovine DNA, which indicated that the seller had topped the bag up with cow's milk, or infant formula that was made with cow's milk.
"We found that one in every 10 samples of breast milk purchased over the Internet had significant amounts of cow's milk added, and this poses a risk to infants with an allergy or intolerance to cow's milk," said Sarah A. Keim, PhD, principal investigator in the Center for Biobehavioral Health in The Research Institute at Nationwide Children's and lead author on the study. "If a baby with cow's milk allergy were to drink this milk, it could be very harmful."
"In all honesty, I'm not that surprised. Sellers charge per ounce of milk. Cow's milk is about 100 times cheaper than breast milk you can buy online," study co-author Jesse Kwiek, an associate professor of microbiology at The Ohio State University Wexner Medical Center, told FoxNews.com. The team paid between $1 and $4 per ounce.
The online breast milk market has grown exponentially over the past few years with experts estimating that more than 50,000 transactions will take place this year, which is up from approximately 2,000 in 2012.
One of the biggest concerns about purchasing this milk for newborns is that it isn't screened for serious diseases such as, hepatitis B and C, HIV and human T cell lymphotropic virus and syphilis.  There is also the issue of the appropriate collection, storage and shipping of the milk.
The research team reported that that breast milk they received was not always packaged properly to arrive in good condition, and that a significant proportion of their samples were not between freezer and fridge temperature, some arrived much colder because of dry ice, and some were so warm they exploded in transit.
Previous research has shown that milk purchased online has more bacterial growth due to lack of pasteurization, poor shipping and storage. One study showed that only 9 out of 101 samples did not have bacterial growth.
There is no denying that breast milk is best nutritional option for a growing baby, but there are many factors that play into that as well like a mom's diet, if she smokes, takes medications or illegal drugs.  When you purchase milk from an unknown source you don't know their medical history or lifestyle. They may also have an infection or illness they are unaware of, which could be passed to your baby.  This could also apply to a friend or neighbor.
During a previous study it was revealed that 25% of milk samples were delivered with poor packaging and were no longer frozen, and contamination with drugs and other substances.
"Milk bought online is far from an ideal alternative, exposing infants and other consumers to microbiological and chemical agents," the authors noted.
"The take-home message is you really don't know what you're getting," Kweik said of Internet milk purchases.
---