After more than 12 hours of surgery, doctors at Phoenix Children's Hospital have successfully separated conjoined twins.
Alex and Angel Mendoza were born last summer and were joined from just below their sternums all the way down through their pelvises.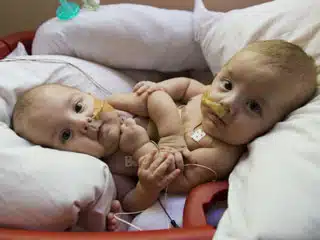 A team of more than 20 doctors and nurses worked to give the boys separate bodies and the two were stable throughout the surgery.
More surgery is expected today as doctors do reconstruction procedures to close each baby's body.
Ashley Frank of Kingman gave birth in mid-August to the twins at Good Samaritan Hospital in Phoenix.
The babies were delivered two months early after doctors saw there wasn't enough amniotic fluid supporting them.
Related Articles:
---