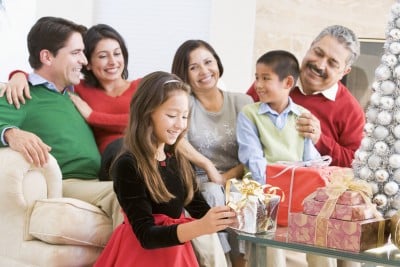 It is always exciting to think of the possibilities that are hidden inside the neatly wrapped gifts kept under the tree, but when the gifts are from uncles or aunts, most of us dread the prospect of opening the present rather than enjoying it.
According to a survey carried out by veterinary charity PDSA, 23 percent of those questioned said that the worst Christmas present they have ever received has been from uncles or aunts. The dreadful present list includes obligatory gifts like socks, talcum powder and ill-fitting jumpers. Coming a close second are office colleagues with 19 percent saying they detest what they receive from their work mates. More interestingly, only 4 percent of women say they do not like the gifts received from their husbands although 34 percent agree to re-gifting what they have received on Christmas.
PDSA however has a strategic plan set for this year to turn your gift nightmare into a true goodwill message this season by launching an appeal on Boxing Day to take unwanted gifts, which will be sold in its UK-wide charity shops to raise funds for sick and injured pets.
According to Andrew Holl, Director of Business Services for PDSA, the gesture will at least help make some lovable cats and dogs happy if not the original recipient of the gift
.
"Bad Christmas gifts are an all too common occurrence at Christmas, despite the best intentions of the present giver.

"However, rather than leaving the unwanted gifts gathering dust in the loft, or worse simply thrown away, we'd encourage the public to donate the presents to their local PDSA store allowing dogs, cats and other pets our vets care for to benefit from their human counterparts' gift misfortunes.
– Atula, staff writer
---