If there is one thing I have learned from the pandemic it's that I miss doing things, going places, and experiencing moments with my kids.
This year for Christmas we are focusing on giving more things we can do than what we have. Earlier this year for my husband's birthday I got him a race track day and he got me a family weekend away with the family. These gifts were more meaningful than stuff that you may not wear or use.
Make sure you have a date planned so they will have something to look for and a concrete date they know they will be able to use their gift. Ideally, it should be within 2-3 months.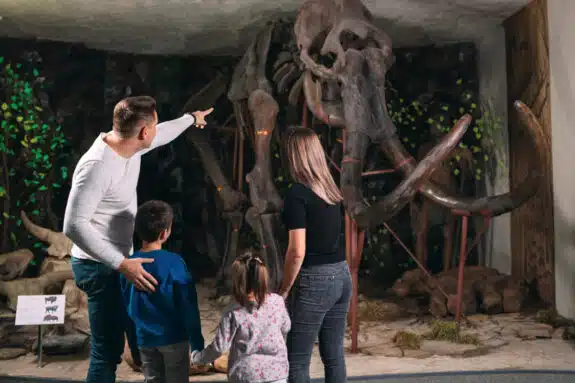 Here are some experience ideas you can give your kids for the holidays.
Trip to Museum, Zoo, Aquarium – learning, plus a day out wrapped in one! Many of these spaces were closed in our province for an extended time during COVID. It's a great time to visit. If you live close and it's something they love to do you can upgrade this gift to a membership so they can visit year-round.
Concert tickets – do they have someone they would like to see live? Secure some seats and you will be a hero.
Sporting Event – Favorite team they've always wanted to see live? There is no better experience than being in the stadium watching it live.
Pick a destination and book a couple of special experiences – We live close to the Niagara region and they have quite a few experiences our kids love. Boat ride, zip-lining, go-karting? Select a couple, and surprise them with a fun day!
Vacation – If you have been saving for a big family vacation, wrap it up and put it under the tree! It shouldn't be a life add-on. It's the main show! Like the destination idea, outline to them where you're going, when, and what you will be seeing. I also send them a link to the destination and ask them to propose some excursion ideas.
Movie passes – now that our kids are starting to socialize again having movie passes is perfect for Friday night hang out opportunities with friends
Day out with Gramma/Grampa/Cousins/Aunt/Uncle – The past 18 months have been a challenge for kids who were not able to see their family. Organizing a day out with their favorite relatives is a great way for them to reconnect!
Pottery Date – They get to pick a plate, cup and paint/fire it to use. You get to spend time together customizing your piece and then they can use it when you bring it home. Win/Win!
Video Game Membership – My son loves PS Plus and the other one is a huge Nintendo Fan. We get them their memberships as a stocking stuffer on Xmas. It's the gift that gives all year as both subscriptions offer bonuses each month.
Online Lessons – There are so many incredible online courses for kids. My son has been asking for coding and graphic design lessons all year. It's the gift that gives them some awesome skills to build for their future!
Escape Room – Whether you plan to go as a family or have your kids co-ordinate a group event with their friends, an evening at the escape room is a fantastic gift idea they can use in the coming months.
Adults:
National Park Pass – Exploring some of your region's beautiful parks is always the perfect gift to give. Up the ante by planning a day once a month that you'll go!
'Of The Month' Club – You can pretty much get any interest curated and sent to you every month. Most subscriptions offer 3, 6, and 12-month packages so you can stay on budget.
Dinner for 2 – Pick a nice place both of you have been dying to try and plan a date! You can also do this with each of your kids. A kid date night is important as well! Have them pick the restaurant and pick a night.
Night Away – If there is a destination you have been wanting to visit, pick a nice hotel close to the action and plan a night away.
Balloon Ride – If you have never done it, a balloon ride is a lot of fun. You feel like you're floating through the sky while taking in your city/countryside. The setup and take-down are also very interesting. Best of all they're normally done at dawn/dusk so it's not a full-day commitment.

Car Wash Pass – Where we live you can buy passes to the car wash that last the whole year. If you have a partner who likes their vehicle to be in good condition this gift is for them!
Do you have a cool experience you gifted or received that was a hit? Tell us below!