We've all heard "eating for two" but women should remember that being pregnant isn't a blank check allowing the eating of whatever they want or however much they crave. Gaining weight while you're pregnant is natural and essential. But gaining too much weight during any pregnancy is unhealthy for both the mom and the baby.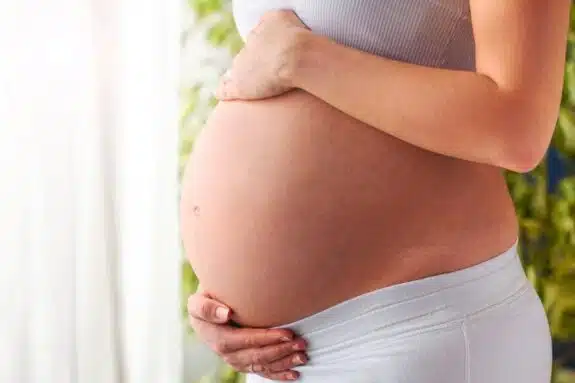 Registered dietician Katherine Tallmadge also reminds us that besides the long-term health consequences, it's very difficult to lose extra fat after you deliver. That's why there's a healthy way to gain pregnancy weight.
Most women are advised to gain about 1 lb. per week during their second and third trimesters. That only requires adding an additional 300 calories per day to a balanced diet.
Tallmadge recommends adding smart nutritional choices for those calories. For instance, drink two glasses of milk (100 calories each) and have one extra serving (100 calories) of whole grains. Another smart choice would be a serving of yogurt or of a fatty fish. You should make up those extra calories by choosing the most nutritious foods possible.
Pregnant women need more calcium, iron and folic acid than other adults. And while they can get what they need from a prenatal multivitamin, it's best to take the calorie increase with healthy foods and "good" fats like avocados and nuts, rather than with junk food or salty snacks.
Weight gain requirements change as a pregnancy progresses, and normally the recommended number of calories increase with each trimester. The fetus gains fat in the third trimester, so a pregnant woman needs to consume enough calories to make that possible. As the baby grows, space in mom's midsection becomes limited, so it may be difficult to eat large or full meals. This can be a challenge, but unless you're eating very high-calorie food, the solution is to eat several small meals every day.
Follow your doctor's recommendations on calorie input. Normally women who are overweight or obese before they become pregnant are advised to gain less weekly, and they will need fewer additional calories as their pregnancy progresses.
---