Everything is pink at Tiny Love! This summer they will be introducing the Tiny Princess™ Collection. Moms who are looking for a couple more pink pieces for their new baby's nursery will love this new line.
Tiny Love's new all pink collection, comprised of the Gymini Tiny Princess™, Tiny Princess™ Mobile, Tiny Princess™ Electronic Book and Follow-Me Fiona crawling toy, is sure to make any baby girl squeal with delight.

As comprehensive as it is colorful, the toys included in the Tiny Princess™ collection address all of the developmental milestones that babies experience in their first years of life — sensory development, building cognitive and motor skills, the growth of emotional intelligence and much more.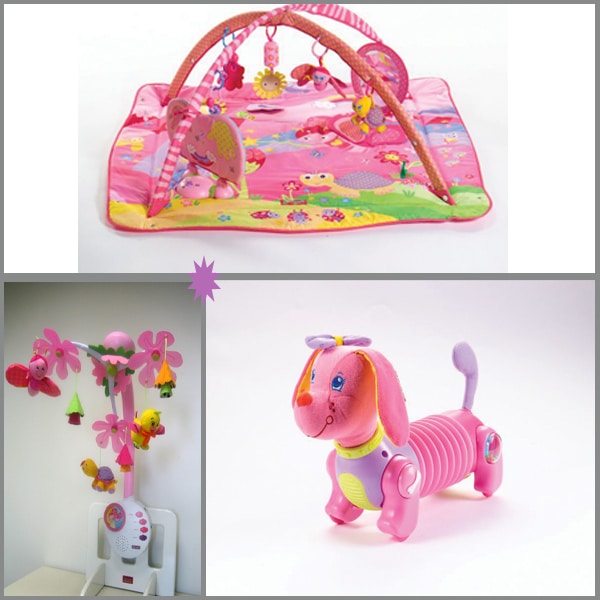 The Tiny Princess™ Mobile

soothes baby while encouraging her cognitive, visual and hearing development. This unique mobile is designed to resemble a magical tree in a fairytale forest with lush pink flowers extending from its branches, each holding its own friendly dancing creature. Each adorable doll has their own special choreographed "dance" to engage and mesmerize baby —lulling baby into a dream filled slumber sure to end happily ever after.

The Gymini® Tiny Princess™

offers baby a breadth of engaging and feature-rich developmental activities fit for royalty. The pink portable kick pad, with its engaging mirror and touch-sensitive effects, is a detachable, stand alone component that is as conveniently useful out in the yard, in baby's crib or in the car as it is on the Gymini®. Fun accessories such as a pink butterfly, yellow sunshine and baby turtle dangle on the flexible overhead arches, encouraging baby to uncover a wealth of sounds, colors and textures.

With the Tiny Princess™ Electronic Book(not shown),

a multitude of fun and stimulating activities await to be discovered with the turn of every page. The Tiny Princess™ fairy wand makes the friendly storybook characters and attractive images come alive. The bright and pretty images arouse curiosity and encourage baby to touch her new book with the electronic wand, promoting her fine motor skills, cognitive abilities and emotional development.

Follow-Me Fiona toy

, is a motorized self-rolling puppy that engages baby with cheerful barking sounds and stimulates physical movement and interaction. The female version of Tiny Love's popular, Follow-Me Fred crawling toy, this cheerful pup plays more distinct feminine musical tunes when in motion. To best serve baby's crawling needs, Follow-Me Fiona features a multi-directional, accordion-shaped body that can be set to move in a straight line as well as in a circular motion. Parents will also be happy to know that Follow Me-Fiona comes with two speed settings to adapt to baby's pace.
---