Expanding on their Here I Grow collection, Tiny Love showed their new 5 in 1 Here I Grow Walk Behind and Ride-on at Kind + Jugend in Germany this week.
This adorable, convertible toy was a finalist of this year's Innovation Award in the category World of Kids World of Kids Toys.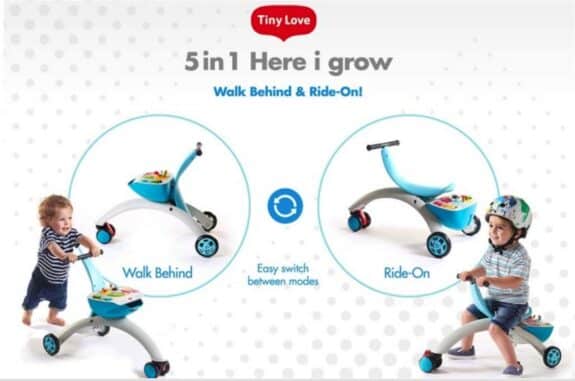 As toddlers are learning to walk they toy can be used as a walker with a toy section positioned in the center that they can play with. That section is moved to the back and the hand reversed to create a seat so pre-schoolers can zip around the house on the now, ride-on.
The front wheel is designed with a multi-positioned caster to allow kids to be more agile. The skateboard like wheels on the back make it easy to stroll while giving it some gripping for hardwood or ceramic floors.
There is no word as to when this will be released but we are excited to see it hit the market. It will be a hit with parents!