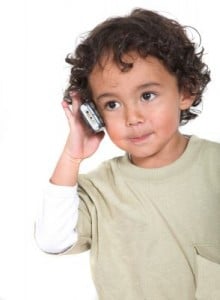 Kids are smart and sometimes they show us that we have to live by the rules we set upon them.  This was true last week when a 4-year-old Florida boy called 911 to report that his dad was "being bad" and that he needed to get that urgent message to Santa.
And even though we all know that this is not why you call 911, this toddler truly believed that this would be the only way to relay his message.
"Send a message to Santa that will say that dad is being bad. My dad's been very bad, he really did," the boy said confidently, according to a recording of the Jan. 2 emergency call.
The patient operator on the other end was surprised but played along with the child to make sure nothing was really wrong.
"Send the message all the way to Santa," the boy repeated.

"You want me to write a message to Santa?" the operator asked. "OK, what's your name? How old are you?"
After telling the operator he was 4, the determined little guy went on to describe what the punishment should be for his father's  behaviour.
"When you're bad you get a big rock and you have to put it under your house," the kid explained.
Which makes sense as Santa sometimes leaves a lump of coal.
Just to be sure nothing criminal was going on the operator dispatched a police officer to the house and it turns out the pre-schooler was just mad at his dad.
It's probably safe to say that these parents will be coming up with a better way to keep their son from misbehaving.  The Santa 'naughty list' threat that we all use for the last 5 weeks of the year will more than likely not ever come up again.
---
[ad]