United Kingdom toddler Carson Ayre is much like any other three-year-old. With a beautiful smile, and an always bubbly personality, he looks the perfect picture of health for a child his age. But it wasn't always like that for Carson and his family.
Carson was born with transposition of the great arteries, which is an extremely rare and life-threatening condition, which would have eventually resulted in the toddler suffering heart failure. The congenital heart defect caused Carson's veins, heart chambers and arteries to be the wrong way around in his tiny body. Thanks to the tireless efforts of a medical team at Leicester Glenfield Hospital and a pioneering procedure, Carson's heart, veins and arteries are all back where they should be.
However, after the surgery was over, the medical team left Carson's chest open for five days, in order to help the swelling around his heart to go down. The tot's parents maintained a constant bedside vigil during that time period, and what they were able to record on video was simply incredible. Through the hole in little Carson's chest, you are able to see his heart beating, facing the correct way, and giving this beautiful boy a second chance at life.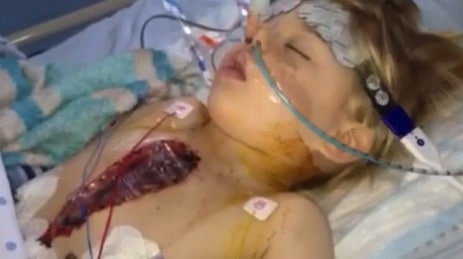 The ten-hour procedure was performed by Giles Peek, along with a team of experts who had flown in from London to save the child's life. Carson's father, Luke, 25, works as a nursing home care assistant. He said that he and his wife Danicka, 27 were "very proud" and that little Carson "absolutely shocked" them. The Ayre's know one thing for certain, their little boy is a fighter. Luke says "He was out [of hospital] in two weeks when they said it would be a month. We were very pessimistic about the entire situation – we thought this was it. So to see him get through, no words can describe it. Some of the children that were on the ward were just waiting to die – we were just one of the lucky ones where everything turned out great."
Both of Carson's parents have nothing but great things to say about Dr. Peek and the fantastic team of surgeons he brought along with him.
Luke adds,
" He is one of the very few people who can do this kind of surgery and they brought in people especially to help him do it. We had all the best people in the UL to do it – that was very reassuring. We can't thank them enough."
This surgery was the third one that Carson has had since his birth, with the first one being done mere weeks after he was born, and the second one for when he was fitted with a pacemaker at nine-months-old. Peek, who performed the operation says,
"Carson had one of the most complicated heart conditions and the operation, which we call a 'double switch,' is one of the most complex operations that we do. There are 153 opera that we do and this is one of the rarest." He also adds that he is very pleased with Carson and the amazing progress that he has made since his major surgery only three weeks ago, saying "I'm very pleased with him, he's done very well. With any major heart operation we don't know what's going to happen but we're very pleased with how well he's done so far. It's wonderful when the children do well and it's soul-destroying when they don't."